When:
September 2, 2022 – September 6, 2022
all-day
2022-09-02T00:00:00-06:00
2022-09-07T00:00:00-06:00
Where:
Old Faithful Christian Ranch
http://www.ofcr.org/camp/index.php/about-us/directions
Contact:
Dave Nutting
970-523-9943
Choose Your Weekend:
August 26 – 30, 2022
September 2 – 6, 2022
Join experienced creation teachers, including Dave and Mary Jo Nutting and Dr. Alan and Diane Galbraith to experience Yellowstone on this creation-based bus tour of Yellowstone National Park. Visit famous sites like Old Faithful, Artist Point, Mammoth Hot Springs, and other natural wonders. See geysers, hot pools, mud pots, geology, wildlife, and amazing scenery. Orientation, meals, lodging and additional creation teaching programs will be at Old Faithful Christian Ranch near Island Park, Idaho, west of Yellowstone. Choose your weekend! These adventures include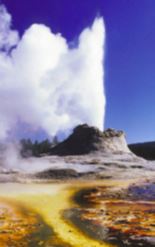 dynamic Creation presentations and on-site Yellowstone experiences to fortify you and your family to stand firmly on the Truth of God's Word. Be equipped to survive the evolutionary, naturalistic worldview philosophies that are so prevalent in our society today while you and your family thoroughly enjoy the famous Yellowstone scenery and features with experienced Creation guides.
Description: The tour begins on Friday with supper at Old Faithful Christian Ranch. An evening session will orient you to the field excursion and give you evidence for creation and major problems with the evolutionary theory. After breakfast, we will depart in the camp bus (or car caravan depending on Covid-19 restrictions) to Yellowstone National park and travel the southern loop to see many of the features Yellowstone is famous for: geysers, spectacular hot pools, beautiful scenery, geology, wildlife, and fascinating design features. There will be teaching at the sites and along the way in the bus. Expect some shorter (very easy) hikes at various sites while some longer hikes are available if desired. The next day we will jump in the camp bus again to visit the northern loop of Yellowstone to see mud pots, Artist Point, Mammoth Hot Springs, and other fascinating features. We will once again return for dinner and lodging at Old Faithful Camp.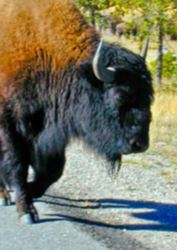 Monday there will be two options: (1) Creation presentations and fun family activities at the camp or (2) Get an extra day in Yellowstone seeing additional sites. After the Tuesday morning wrap-up and camp departure, an optional morning trip to Earthquake Lake is included.  Others may choose to use this day to see amazing scenery at Teton National Park on their way to their next vacation destination.
Accommodations: Old Faithful Christian Ranch is located near Island Park, Idaho and will accommodate families, groups, and individuals. Stay in rustic bunk cabins which have 10-14 bunk beds. We will attempt to place large families in individual cabins when requested and if available. Some may need or prefer to utilize separate men's and lady's bunkhouses. Although there are no baths in the bunkhouses, there are 2 sets of bath houses each with multiple sinks, modern toilets stalls, and showers. If you wish, you can reserve motel rooms in nearby Island Park and still take part in all of the tour, meals, and activities.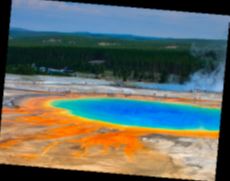 Meals: The food is great and as one participant said, "Cooked with love!" Three meals per day are provided, beginning Friday evening. The camp is excellent about accommodating special dietary restrictions, so please let us know in advance of any special needs.
$290 per Adult/Teen*
$250 per child 3-12
A love offering to the camp and to AOI is also greatly appreciated.
Prices include 3 meals per day and lodging for 4 nights. Park entrance fee may be required. If so, it will likely be at a greatly reduced camp bus rate. Note: An Interagency LIFETIME (US Resident) Senior Pass for ages 62+ is good for all National Parks nationwide for life!
* Lodging is in bunk-house type cabins. We will try to place families in their own separate cabins, but it may be necessary to place some individuals in men's and lady's cabins. Call us to confirm. For those who would prefer a motel for lodging rather than the camp's rustic cabins, contact us.
By mail: Please download the 2022 Creation Vacation Registration Form, fill it out, and send with your deposit (see Cost tab) to:
Alpha Omega Institute, PO Box 4343, Grand Junction, CO, 81502
By phone: Please call 970-523-9943 or 1-800-377-1923. We suggest you download and fill out this form so you will have all information ready. You will also need current credit card information.
(Note: Our system does not currently allow for on-line registrations. We apologize for any inconvenience.)
Be fortified in your faith while having a real blast!
 Also check out our other camp offerings:
Creation Action Adventures Camp – Rock & River Adventure