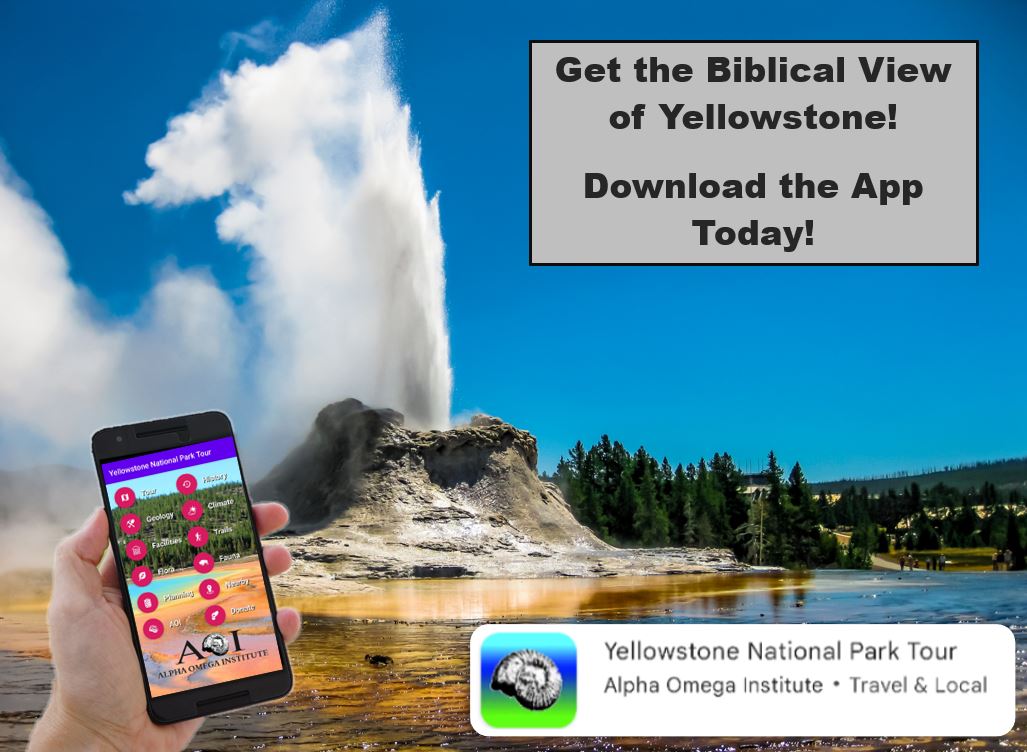 See also our Creation Tour App for Colorado National Monument!
When exploring Yellowstone National Park, don't forget to download our app (below) to help you better understand this beautiful national park! And contact us for a personal tour or for our upcoming Yellowstone Creation Christian Tours:
Intriguing geysers, dazzling thermal pools, magnificent water falls, and virulent wildlife. There's something truly magical about this region – everything Just feels more alive. There's no other place like it on earth.
"Although I've driven through Yellowstone several times, my understanding was limited to what I saw and the information offered by the parks service. I never understood what was happening on a grand scale and certainly not in the context of creation and the Flood. By using this app, I believe you'll expand your knowledge and gain an even deeper appreciation for the park."
– Mark S. (Writer and Artist for AOI)
Not only will you receive creation-based responses to standard, mainstream geology, but information regarding hikes, area history, and design features of local flora and fauna. Whether going in person or just taking the virtual tour from your armchair, you'll see truly amazing views and gain an immense amount of creation knowledge. The app is also keyed to GPS.
We are asking for at least a $1 donation for this app. Once you've downloaded the app, simply click the donate button. Remember, your gifts help fund the ministry of AOI along with development of future apps.
Apple App Store
You can find our Yellowstone National Park Guided Tour app on the Apple App Store by clicking on the following image:

Google Play
You can find our Yellowstone National Park Guided Tour app on Google Play by clicking on the following image:

Direct Download
We offer the Android app as a direct download by clicking this link on your Android device. When you click that link, your download will begin at the bottom of your phone screen. You may have to click "Save to Device" or "Save to Downloads":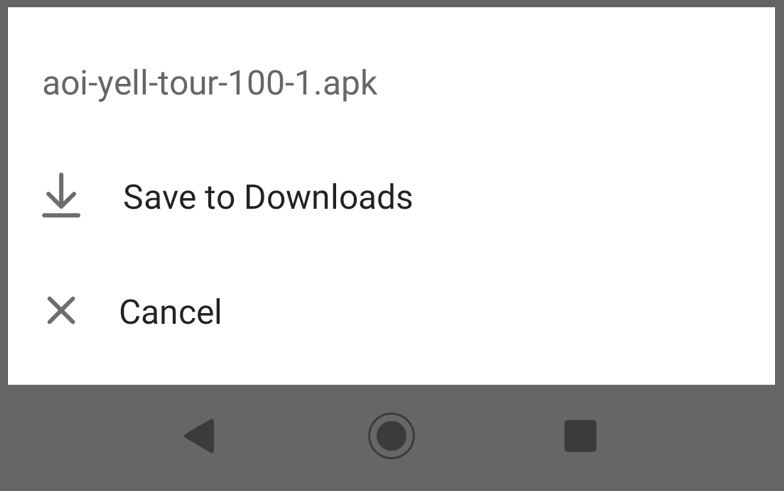 When the download is complete, click on this file (within the "Downloads" or "Files" App/Folder on your phone) to Open: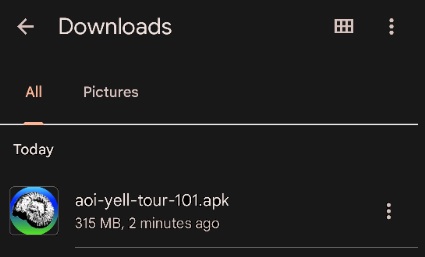 You will be prompted and asked if you want to install the application: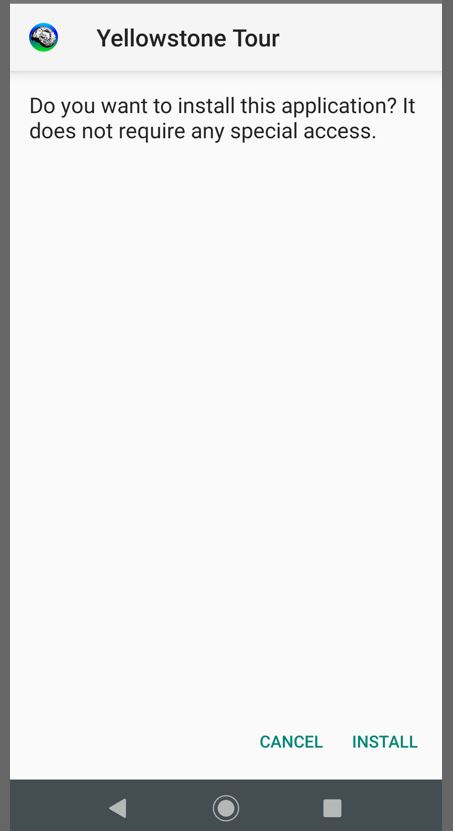 Click Install!
Note: You may be prompted to give permission to install apps from other sources. If so, you will be taken to your security settings, where you need to turn on the Unknown Sources setting: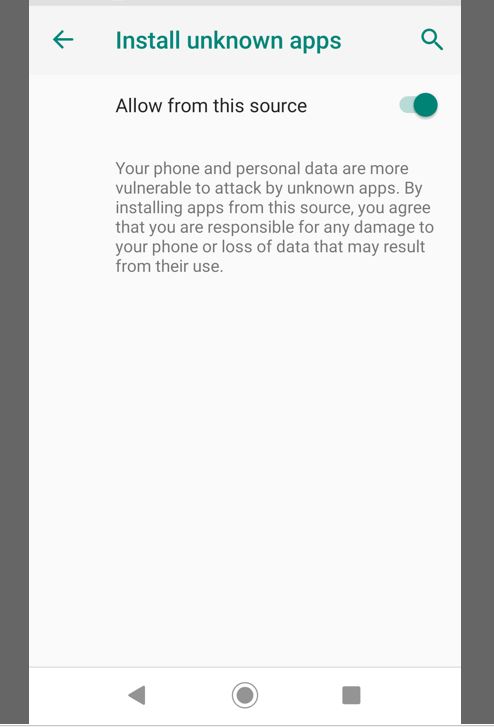 You will be notified when installation is complete!
Click Open to run the app. Then you should see the main screen of the tour app: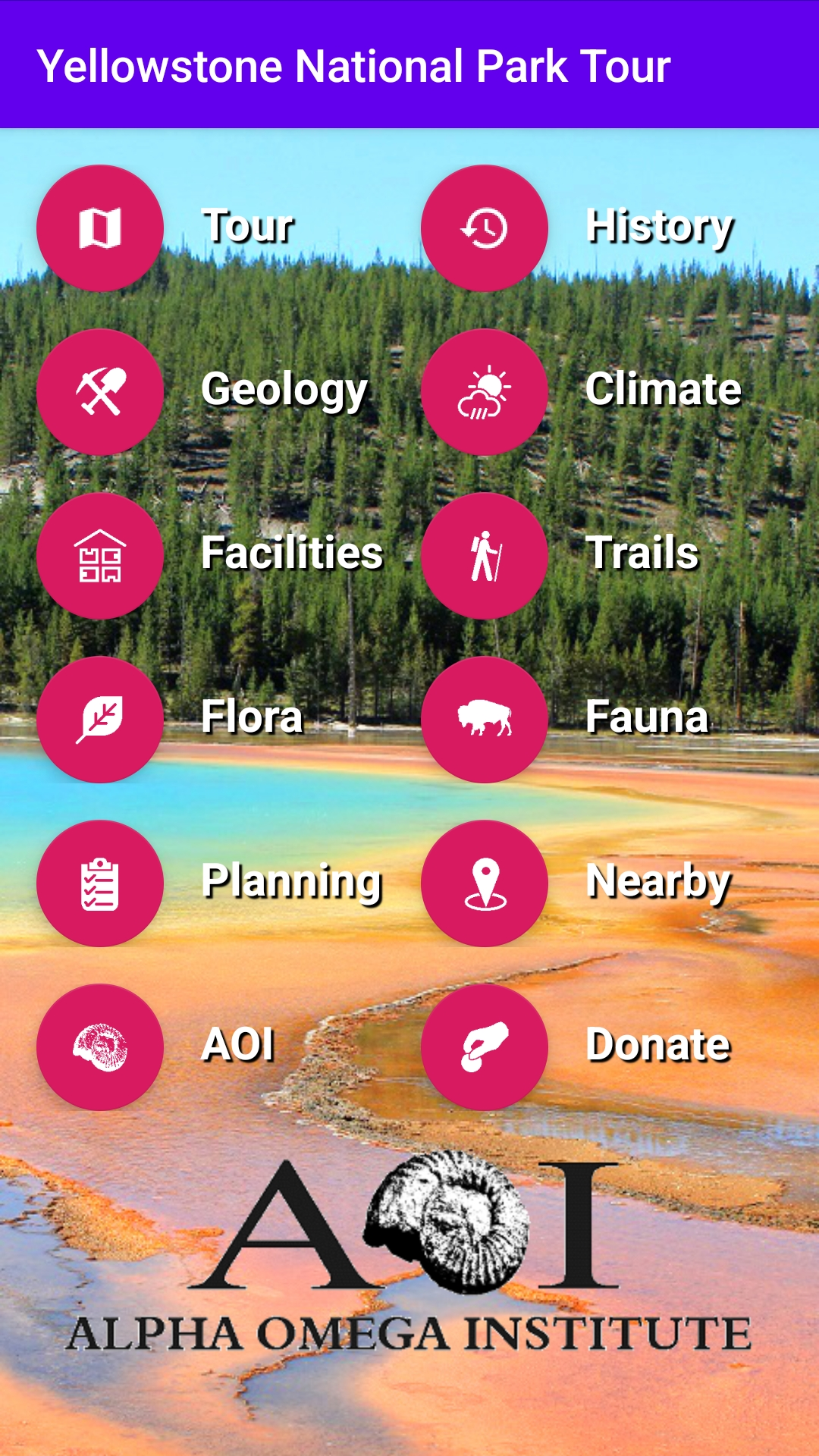 Note: When you click the Tour button you will need to give permission to access the Phone's location. This allows the map to work, we don't track or collect any information from you.
Donations
To show your support for the work that Alpha Omega Institute is doing with guided tours via mobile apps, here's a donate button to our donation system using PayPal. You do not need a PayPal account to donate to Alpha Omega Institute using the donate button below.
We want to say a BIG THANK YOU to KJOL Radio in Grand Junction, CO for their help in contributing to this project!! Be Encouraged and Hear the Light!
www.kjol.org or facebook.com/kjolradio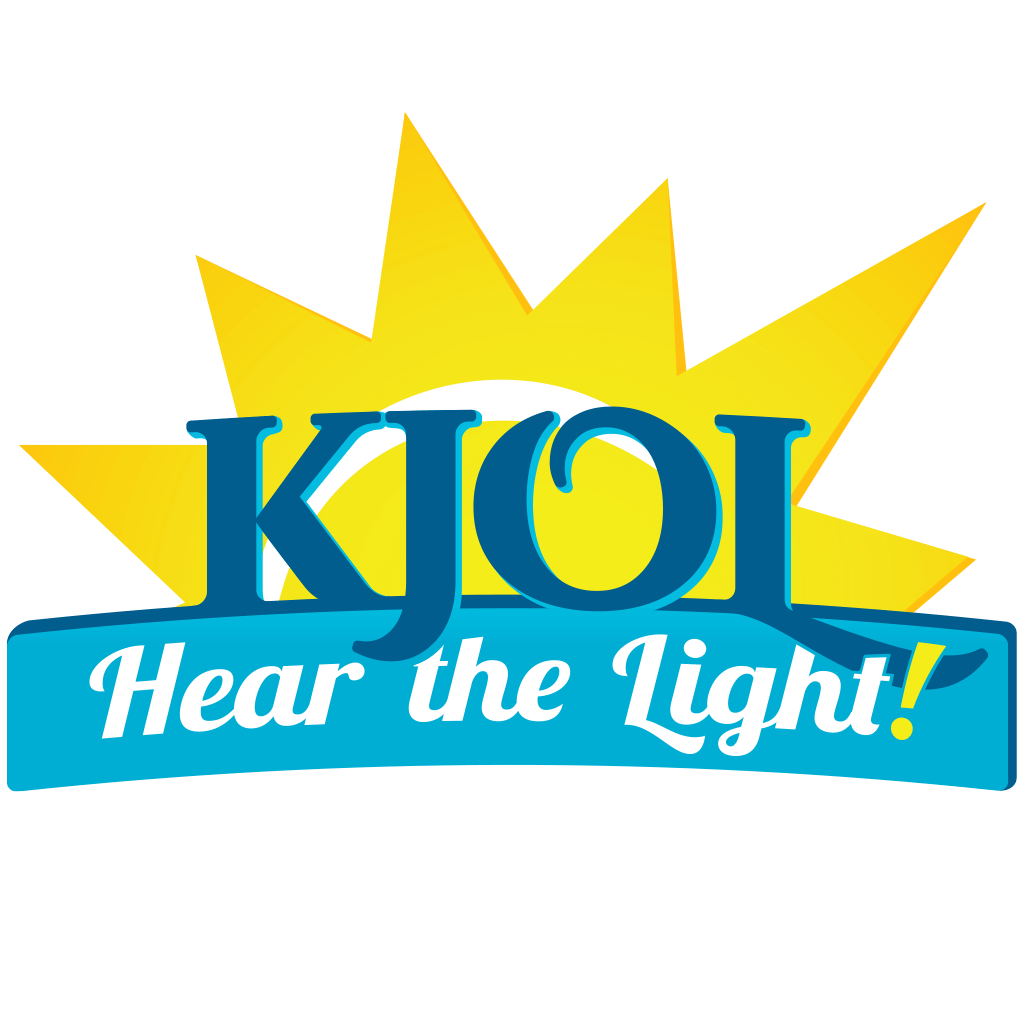 We pray that this and other apps will be a new resource to share life-changing Truths in our modern culture!
Contact [email protected] for more info!