Contact us at 970-523-9943 or [email protected] for more information on upcoming or prerecorded events.
In addition to our informative seminars, Alpha Omega Institute offers a variety of training opportunities for those who want to learn more about creation, science, ministry and evangelism. Take a look, and see if one of our offerings is right for you!
Explore for yourself some of our favorite evidences here and also here!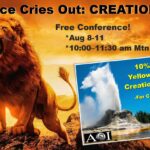 So many people are falling for the lies and deceptions of our culture. Our goal at Alpha Omega Institute is to train and equip people that they may know that they can trust the Word of God. We desire to teach God's Word, as it is written and intended and that the scientific evidences all around us do confirm the Truth of God and the Bible. In an effort to reach out and share this valuable creation information (and ultimately, the gospel) with more people, we, at AOI, are developing more and more online classes.
Continue Reading...