BIG ANNOUNCEMENT – we want YOU to join us on a Virtual Geology Tour of the American Southwest!
CLICK HERE to access the Class! (You will need the password to access the class.)
This is normally a 2-week Floods of the West Field Trip in which we guide students from Jackson Hole Bible College (www.jhbc.edu) to sites such as: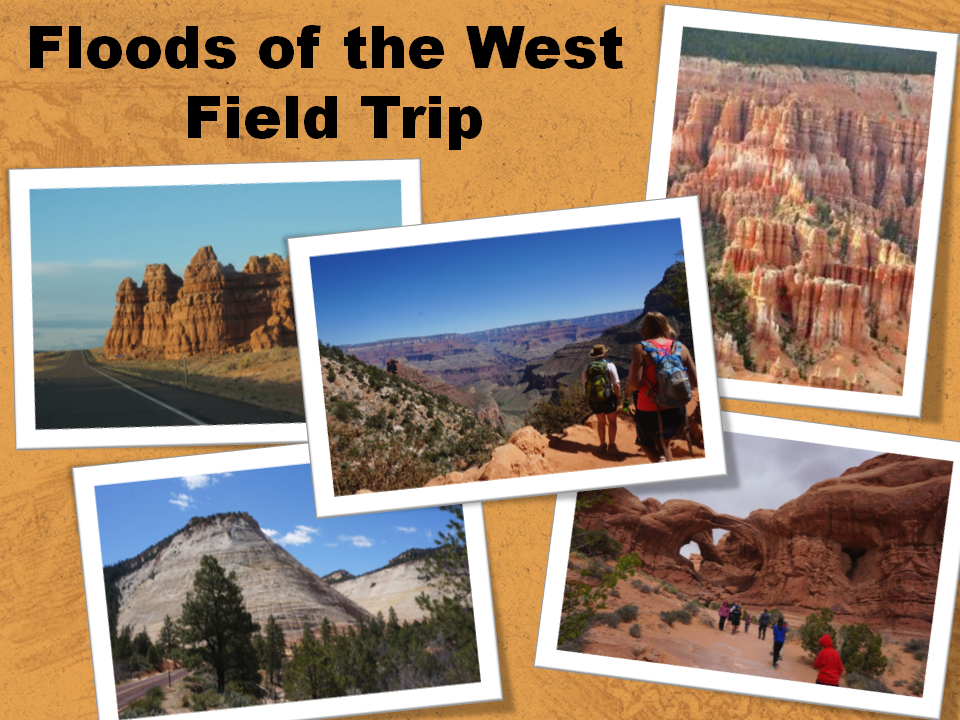 Dinosaur National Monument
Colorado National Monument
Arches National Park
Canyonlands National Park
Natural Bridges National Monument
Petrified Forest National Park
Sunset Crater and Wupatki National Monument
Grand Canyon National Park
Kodachrome Basin State Park
Bryce Canyon National Park
Zion National Park
Due to health and safety concerns right now, this physical trip will be an online class this year that we are opening up for any of you who want to learn along with us. Please join us!
When is this class?
Live from 9:00 am-12:30 pm MST, M-F on Apr 6-10. After that, class resources will be available on our website indefinitely.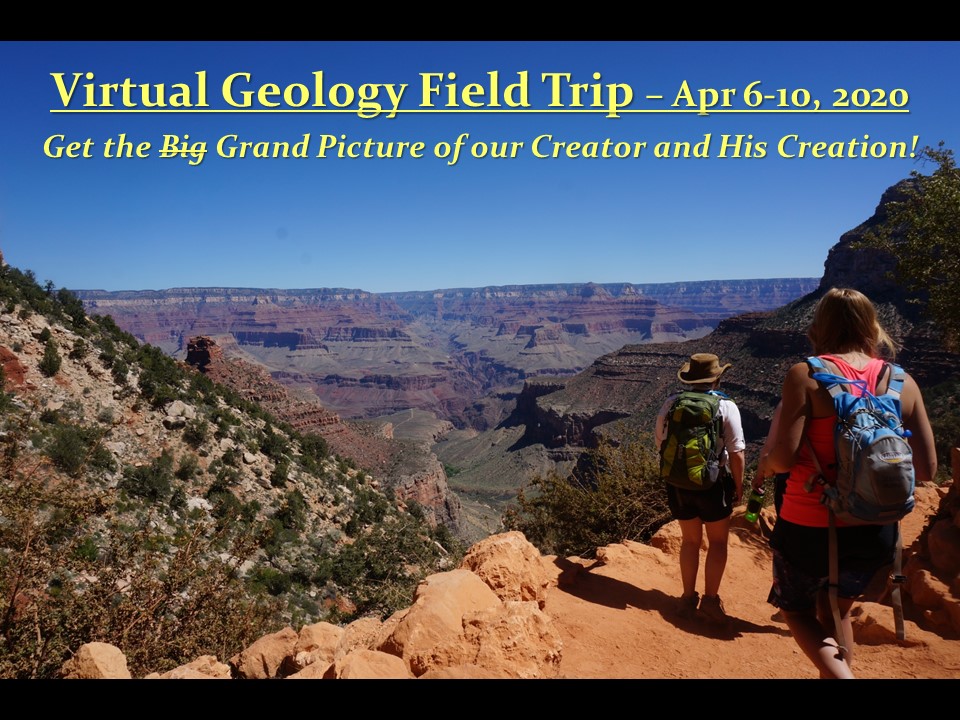 How much does this class cost?
We are making this available as a limited time offer simply with a donation of any amount, even if it's only $1. We want to make this available for any who want to join!
What is this class?
This field trip is designed to take the classroom on the road (virtually this year) so that students can learn and experience first hand the beauty and ruggedness of God's Creation. National Parks and museums all over the world teach the perspective that fossils or rocks are millions of years old. Unlike the typical interpretive signposts and exhibits, our field trips give a refreshingly different view which is Biblically sound and scientifically accurate. We show the evidences of the young earth perspective that are ignored or scoffed at by the evolutionary worldview. Sites include the Grand Canyon, Yellowstone, Arches, Canyonlands, Mount St. Helens, and many more! Our goal is to enable students to Discover Creation…and Worship the Creator!
Discover, explore and wonder at the geologic features of the Southwest, focusing primarily on geology, but also including selected studies of biology and human history. Particular emphasis will be given to studying evidences of stratification and erosion. Learn the Biblical perspective for the formation of Grand Canyon, Arches, Canyonlands, Natural Bridges, Bryce Canyon, and Zion National Parks, as well as the intriguing formations at Kodachrome Basin, and much more.
This Field Trip is part of our 1-year Training Adventure – See https://www.discovercreation.org/adventure/ for more details!
What will you get?
An Understanding of the Evidence for God: You will be blown away with the scientific evidence for our Creator and evidence of the global flood! This class will open your eyes!
Vacation Planning Resources: Another emphasis with this class is to equip you with the teaching and resources now so that you can easily plan out a family vacation to view these sites for yourself and understand them from a Biblical Creation perspective. We even have phone Apps in development for some of these National Monuments and Parks that will give you the correct interpretations. If you would still rather have a guide for your trip, contact us and we may be available to guide you physically through these sites.
Live Involvement & Unending Access to Class Resources: By signing up for this course, you will be able to join us for live classes (9:00 am-12:30 pm MST, M-F on Apr 6-10) and you will be given unending access to course videos and resources on our website.
More Opportunities to Share Your Faith: We want to equip you to multiply God's work by sharing these truths and resources with the loved ones in your life! If you know of anyone who may be interested, whether believer, unbeliever, doubting or skeptic – – feel free pass on this class opportunity to them!!
How do I sign up?
Step 1: Go to https://www.discovercreation.org/donate/ and donate whatever amount you are able to do.
Step 2: Email me, Brian Mariani (

[email protected]

) with "Virtual Field Trip" in the subject line.

Please give me your Name, Email, Phone Number, Hometown, Age, and please tell me why you are interested in this class.
I will respond to you as soon as I am able with further class instructions.
More Questions?
This is a great opportunity for homeschool families – whether you have been homeschooling for years…or only for the last couple of weeks!! 😉

 

Join us in the Adventure!