Discover Creation with AOI
Welcome to Alpha Omega Institute's new website! We're glad you took the time to check us out. We are unashamedly Biblical in presenting our views, yet we are seriously dedicated to presenting scientific and historical evidence to back up these views. We hope you have fun exploring as you Discover Creation with us at AOI!
If you are a Christian, we believe you will find lots of evidence on this site to affirm your faith. If you are a searcher or a skeptic (like some of our staff used to be) we welcome you! We hope you will explore the evidence with an open mind, consider how you came to your current beliefs, and seriously contemplate how your view of origins impacts your life and destiny.
Welcome to the journey!
As you discover God's creation, make sure to check out our new AOI Ministry Center. We would love to meet you and give you a tour!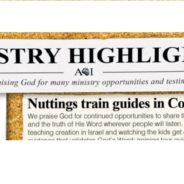 Hello friends and family, We wanted to update you on how life is going for all of us here at AOI. It has been another busy year. Thank you for praying for us and please continue! How we can be praying for you? Enjoy and to read it better, you may click on the picture and it should open up to a larger size. Thanks and God Bless You!
Read More
Question to us: "How does evolution account for the existence of male and female forms among species?" Mary Jo's Response: For the sexes to arise by evolution, both male and female and all their complex complementary reproductive parts would have needed to "evolve" by random, chance natural processes in the same kind of organism at the same time and same location, or natural selection would not have "saved" these wonderfully miraculous accidental mutations as...
Read More