Register here for FREE access to the replays for this online event or email us at: [email protected]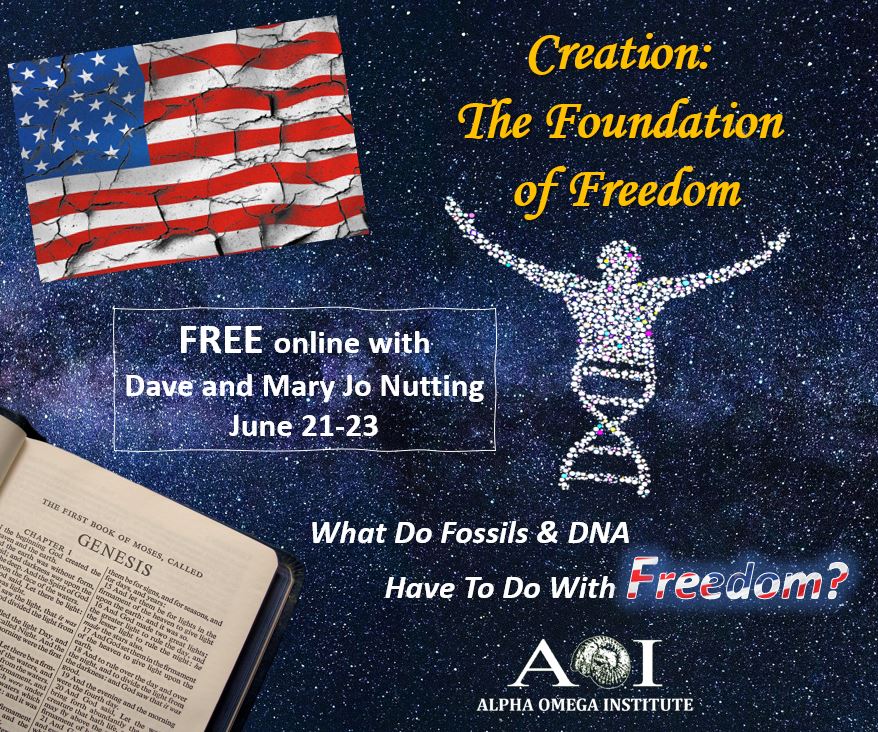 Hey: Freedom Loving Truth Seekers
Do you ever feel like the world is spinning out of control? Daily we're bombarded with the latest "crises" – pandemics, riots, wars, inflation, shortages, school shootings, divisive elections and court decisions.
What has happened to our nation? Answer: We have lost our foundation! Psalm 11:3 says, "If the foundations be destroyed, what can the righteous do?"
Genesis begins with a powerful foundational declaration: "In the beginning, God created."  These words inspired the founding fathers of our nation to declare, "We hold these truths to be self-evident, that all men are created equal, that they are endowed by their Creator with certain unalienable Rights … Life, liberty, and the pursuit of Happiness."
Yet today, our nation's schools brazenly teach evolutionary (no-God) Naturalism and other anti-God philosophies. We've kicked our Creator God out of schools and the public square, then substituted all kinds of man's futile thoughts. Is it any wonder so many kids and adults are confused, depressed, rebellious – HOPELESS – and that our country has been in rapid decline?
We're Dave and Mary Jo Nutting, Co-Founders and Directors of Alpha Omega Institute. Having attended public schools, we were both thoroughly indoctrinated in the theory of evolution and the gambit of anti-Biblical philosophies. But while teaching at the college level, we discovered scientific evidence that affirmed Creation and exposed the fallacies of evolution. That led to further research that convinced us that true science and history substantiate the Biblical record.
You likely grieve for students or adults close to you who had their faith destroyed because of evolution and other anti-God philosophies. When we realized how prevalent this is, we felt an urgency to share our research with whomever would listen. So, for the past 40+ years we've been equipping young people and adults with evidence to stand firmly on the truth of God's Word – beginning in the Biblical account of Creation. We show them they don't have to abandon their faith and encourage them to grow in their relationship with their powerful, loving Creator.
We invite you to Replay our FREE online event — Creation: The Foundation of Freedom. Discover how the ancient book of Genesis provides answers to the issues facing our society today. Explore ways to restore a firm foundation and bring HOPE to our personal lives, our families, and our nation.
This Conference was recorded in June 2022. You can register to receive access to every conference session replay!
Register: Scroll down to register for the videos for this FREE online event. You can also email us at: [email protected].
Discover Creation … Worship your Creator!