In the same stream as my last blog (this time of year actually slows down enough to collect your thoughts again), I want to continue to reminisce on my recent travels.  So step back a little in time with me again (this was also last September).
…One added perk of a traveling creation ministry like ours, is the blessing of passing through parts of the country where our children now live. We currently have three daughters and sons-in-law who are in active ministry.  One is a missionary in Mexico, another is a pastor in Nebraska, and the third is a pastor as well in the state of Washington. With this in mind, we like to take the opportunity to provide their churches with creation seminars!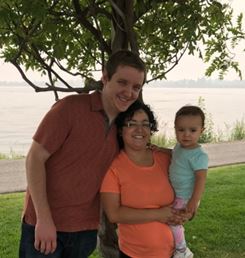 On one of our latest seminar tours, traveling from Idaho to Oregon, we decided it was a good time to visit our daughter's family, Claudia, Keith and Karina (our granddaughter). They had recently moved to Washington where Keith accepted a position as a pastor.  It was a blessing to see them, their home, meet some of their new church family, and believe it or not… they even allowed 'Dad' to do some teaching on Wednesday evening.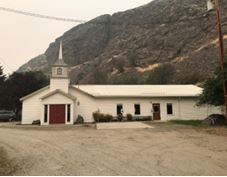 The community they live in is only a few miles from the Canadian border, which gave us the opportunity to visit Canada one afternoon. It was a very pleasant drive, but a bit disappointing due to the numerous fires in the Pacific Northwest causing quite a haze of smoke that definitely affected the viewing of the scenery in the beautiful mountain setting. 
We are so thankful for the desire of our grown children to continue to serve the Lord! For the parents who are currently in the process of teaching and training your children, be faithful, do not grow weary, daily rely upon the Lord and He will see you through.  It can be a daunting task, but well worth the effort!
Rich Stepanek