Looking back over the end of the summer, I thought I would do a little recollecting of some of the recent travels.  So step back a little in time with me.
… It seemed to us that almost everyone had come to Nebraska to view the solar eclipse! That became especially evident on the return home—more details on that later! 
A pastor friend from Harrison, NE, had asked me (Rich) a number of months ago if I would be interested in giving an astronomy talk at his church on the Sunday before the big solar eclipse. It seemed to be a fitting topic, since they were expecting a flood visitors to the community (their town was located in the "total eclipse" band striping the nation).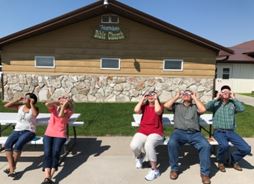 The study of astronomy is an awe-inspiring reminder to us of just how "small' we are in the grand scope of the universe. God made billions of stars in billions of galaxies and set them all in their place, yet He cared enough to provide a way through Jesus Christ for us to have a relationship with Him.  What love He demonstrates daily in His supreme care!
Now about the story of our trip home—-Yes, it seemed to us that EVERYONE had come to Nebraska! We thought we would be smart and NOT take I-25 south through Denver, because that road can be very congested on just a normal day. So we planned to go through Casper, WY, and then south through Craig, CO. 
It was a good plan for the most part, but we didn't expect the backed up traffic for miles and miles south of Casper.  At times when traffic was at a standstill , people got out of their cars to walk the dog, play frisbee or whatever to pass the time.  It added about three extra hours to our trip, but I guess it was worth it to experience the rare event of a 100% solar eclipse!
Do you remember that event on August 21st, 2017, and what kind of thoughts did it inspire in you?  It was definitely an amazing sight.
Rich Stepanek