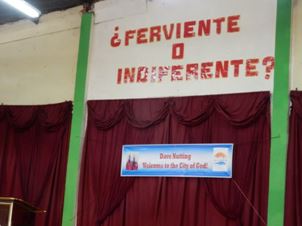 Last week, I had the opportunity to speak at several churches (with groups ranging from 65 to around 200), a university with 25 in attendance, a public school group of about 50 teens and a Christian school of an estimated 125 to 150 high school and middle school students. All of this was in the country of El Salvador. (The sign at the right says: Dave Nutting Welcome to the City of God.)
The churches had special services on Saturday night, and Sunday morning as well as Sunday, Monday, and Tuesday evenings. The university was on its "semester" break, so we were glad that many still came out to hear our talk during the day.
The public school actually bussed their teens over to a Christian school so they could hear a 2 hour (translated) session (think that would happen in the states?). They were quite interested.
The organizers and pastors would like for us to return to present much more extensive teaching. Judging from the interest at our sessions, I feel our organizer, Pastor David, did a remarkable job getting us well scheduled and connected in the community.
We had not originally planned (if you remember from a previous blog) to make a stop in El Salvador. But I felt led to do so and could fit the time in on our way to teach a Creation tour of Costa Rica. This tour will be followed by another week of additional church and university outreach in Costa Rica (March 12th – 20th). I just looked at the schedule for that outreach… and it also looks packed.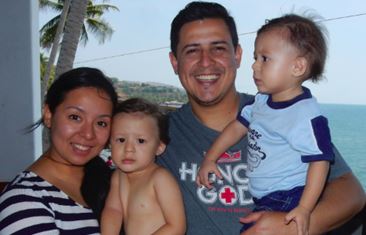 Thank you, Pastor David and Lynette, for your work on this, your hospitality, and also for including me on your family outing (See picture). Thanks, also, to each of you who were praying for this El Salvadoran outreach. It is your prayers and God's faithfulness that opens doors and hearts! We have already been told that the programs have positively impacted several individuals and families! I am so extremely grateful to those of you who are part of AOI's ministry support team. You make it possible to reach out to various audiences both in the States and abroad.
Dave Nutting