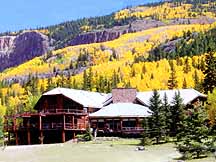 We are excited to announce that prices for this year's Creation Family Adventure at Redcloud have been reduced by 15% — and there is still room for YOU and your family. These vacations are more than just a "vacation." They are truly "vacations with a purpose." Creation teaching, family building activities, great fellowship, opportunities to focus on the Lord and His Word – all in the magnificent beauty of Colorado's high mountain country.
AOI provides:
Fascinating, understandable creation teaching with AOI speakers
Opportunities to get your questions answered one-on-one
Exciting children's program with creation teaching and hands-on activities
Plenty of one-on-one time with AOI staff
A great selection of quality books and DVDs
Combined with Redcloud's:
Exciting recreational activities
Wonderful caring staff with a heart to serve
Beautiful log lodge with amazing views
Comfortable lodge rooms with private baths
Plenty of delicious, healthy food 
This year marks the 25th year of AOI Creation Adventures at Redcloud. Many families have told us it's the best vacation ever – better than cruises and big-name theme parks. Their kids and teens beg to come back year after year!
Fortify your family with the truth! Bring them to Creation Family Adventure at Redcloud. For more information go to Creation Vacations. Then call 1-800- 377-1923 to register today.
Dave Nutting
If you would like to see if an AOI seminar is right for you, or you would like to help the work of Alpha Omega Institute, please visit our website events page or our donate page. Keep up to date with what AOI is doing. Thanks for your partnership.