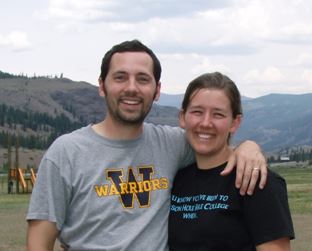 Hello AOI Followers, we are new on staff at AOI and we wanted to introduce ourselves in our first blog post. We are Brian and Aimee Mariani and here are our brief testimonies of how God has worked in our lives in exciting ways and brought us to this position at AOI! That is actually a picture of us jumping into service with AOI at a Creation Boot Camp at Camp Redcloud during the last week of June.
Brian: Hey guys, first off, I grew up in Bloomington, Illinois and was raised in a close family, a good church body, and in public schools. I was always interested in math and science and first learned of Creation science right before high school. I always just trusted the Bible at face value, since it is God's word. So as a freshman and in biology class, I never knew how to combat the arguments of evolution. God led me to two different secular universities as I studied for a physics teaching degree all the while struggling to explain my faith and the evidence to my peers. It saddened me to see very intelligent people deceived by the claims of evolution.
God then led me to Jackson Hole Bible College, which strengthened my creation worldview and I had the opportunity to research and help write The Genius of Ancient Man with the research team there. This is where Aimee and I met and got to know each other.
From there I spent two years teaching science at a small Christian school, where I was blessed to be able to teach them the evidence, the arguments, and the philosophies as we compared creation and evolution. I was able to show my students how the Bible is consistent, that God did create everything in six days, and that there is evidence to back that up. I was also able to show the pervasiveness of evolution, despite there being very little evidence to support the theory and a lot of things that could simply discredit the theory.
Aimee: I grew up in northern California in a strong Christian home. My seven younger siblings and I were all homeschooled through high school, which was a huge blessing. This not only knit a tight bond of friendship within our family, but also helped to give us a strong foundation and belief in Biblical creation. My parents both have a love for science and encouraged us all to learn and marvel at God's creation, and my dad, a mechanical engineer, loved to explain scientific concepts to us in an interesting and understandable way.
After high school, God used my love for history to lead me to a position at Rock-N-Water, a Christian camp in California. Over the years I ended up being a program director there. This was a huge part of my practical education, where I learned a lot about working with people, and grew in passion to share my love for seeing God's glory in His creation.
God then used this passion to lead me to Jackson Hole Bible College. I learned a lot, and it grew and strengthened my faith, but I wasn't sure what to do with it after graduation. As I neared the end of my year there, it was actually during the first day of geology class with Dave and Mary Jo Nutting that I felt a strong calling to some kind of creation ministry… someday… somehow. As time went on, I started to think that perhaps what I was really called to was to help my husband in creation ministry, supporting and assisting him in whatever ways I could. When Brian and I got engaged almost exactly one year later, I could see God's hand confirming that those dreams really were part of His plan.
We got to know the Nuttings through the Grand Canyon geology field trip at Jackson Hole Bible College, and we both kept in touch with them. So we were delighted to see God lead us to take up this position with AOI. We have always wanted to teach others about God through His word, His creation, and science, so we believe that this opportunity with AOI is a great fit.
We will be busy this first month, setting up our house, raising support, developing more and better creation presentations, and the many things that we need to do to build up our ministry here. We hope to be able to travel and do presentations at churches or groups all across the country (or beyond) as well, so we would love to meet you and let us know if we can come speak at your church or group. We will continue to leave more blogs with more details for you all! We would appreciate your prayers, so thanks and May God Bless You!
Brian and Aimee Mariani
If you would like to see if an AOI seminar is right for you, or you would like to help the work of Alpha Omega Institute, please visit our website events page or our donate page. Keep up to date with what AOI is doing.  Thanks for your partnership.