Creation Action "Boot Camps"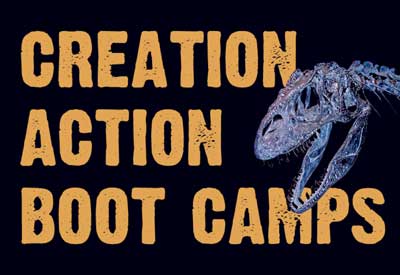 Creation Action "Boot Camps"
In the Heart of Beautiful Colorado Mountains
What are Creation Action Book Camps?

Creation Action Boot Camps

are one-week intensive academic camps loaded with tremendous recreation activities and are meant to be unforgettable experiences. The instructional part is designed to fortify and equip high school teens and college students to survive and thrive on the campus. Learn through fast-paced presentations, hands-on learning activities, discussions, and more. Students are given opportunities to grapple with tough issues and grow in their own relationship with God. They are given tools to defend their faith and stand firm in the Truth of God's Word and to impact others with boldness, gentleness, and confidence. (See recreational opportunities below.)
Prepare for Action

Learn from dynamic creation teachers
Discover Creation with experienced field-trip guides
Conduct hands-on experiments
Prepare a ready defense
Develop creative ways to impact others
Have a real blast – Colorado mountain style challenge activities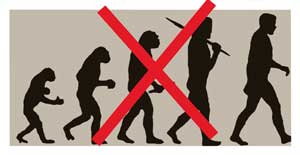 Equip Yourself With

The best evidence for creation
Answers for the "proofs" of evolution
Assurance that the Bible is reliable
Scientific facts that confirm the Bible
Ammunition to stand firm under evolutionary fire
Recreational Opportunities

Be active! You will have a hard time finding a camp that offers as much quality, variety, fun, and challenging activities! Teens, college students, adults, and young children alike not only rave about the activities but keep coming back year after year. Potential activities will be chosen from:

Awesome Mountain Biking

Rappelling

Kayaking
Archery
High Ropes Course
Adventure Course
Hiking
Fly fishing
Mountain Commando
When

Boot Camp : June 23-28, 2013
Cost 

$420 / student – includes food, lodging, teaching, and recreational activities. (We recommend you bring extra money for books, DVDs, snacks, and souvenirs.)
Where

2012 Creation Action Boot Camps

will be held at Camp Redcloud in the beautiful San Juan Mountains of Western Colorado 9 miles SW of the quaint town of Lake City, CO and 3 miles west of Lake San Crystobal. You will stay in very comfortable men or ladies quarters containing modern bath facilities.
Average Travel Times to Redcloud:

Gunnison: 1.5 Hours

Montrose: 2.5 Hours
Alamosa: 3 Hours
Grand Junction: 3.5 Hours
Durango: 4 Hours
Colorado Springs: 4.5 Hours
Denver: 5 Hours
Amarillo, TX: 8 Hours
Phoenix, AZ: 10 Hours

Note: Please use caution if using a GPS navigation system or a program/website such as Microsoft Streets & Maps, Mapquest, or Google Maps. Many of these will route you over rough four-wheel-drive roads such as Engineer or Cinnamon Pass. These roads may be completely impassible for your vehicle.
Directions to Camp from the East (Denver,/ Colorado Springs , etc.)

Take US Highways 285, 24, or 50

to the junction of US 285 and US 50 at Poncho Springs(See Map)

Take US Hwy 50 west through Gunnison (59 miles)
Turn Left (South) on Colorado Hwy 149 to Lake City (45 miles)
Once through Lake City, continue on Hwy 149 to County Road 30 (2.2 miles)
Turn Right (South) on County Road 30 (6.1 miles)
• There is a large sign that reads "Lake San Cristobal Recreation Area" at this junction
Follow County Road 30 past Lake San Cristobal and veer right after 4.4 miles when the pavement ends
You will reach Redcloud Ranch (the Family Ministry entrance) after 1.7 miles on the gravel road
You will reach Camp Redcloud (the Youth Ministry entrance) after 2.4 miles on the gravel road

Directions to Camp from the West (Grand Junction, Montrose, etc.)

Take US Hwy 50 East from Montrose (54 miles)

The junction of US Hwy 50 & Colorado Hwy 149 is at the bridge on the east end of Blue Mesa Reservoir.
Optionally, you can take the Lake City Cutoff / Sapinero Mesa Road, a gravel road that is open from May-October.

Turn Right (South) on Colorado Hwy 149 to Lake City (45 miles)
Once through Lake City, continue on Hwy 149 to County Road 30 (2.2 miles)
Turn Right (South) on County Road 30 (6.1 miles)

There is a large sign that reads "Lake San Cristobal Recreation Area" at this junction

Follow County Road 30 past Lake San Cristobal and veer right after 4.4 miles when the pavement ends
You will reach Redcloud Ranch (the Family Ministry entrance) after 1.7 miles on the gravel road
You will reach Camp Redcloud (the Youth Ministry entrance) after 2.4 miles on the gravel road

Directions to Camp from the South (Walsenburg, Alamosa, Durango, etc.)

Take US Hwy 160 from Interstate 25 or Durango to South Fork, Colorado.
This is the junction of US Hwy 160 & Colorado Hwy 149
Take Colorado Hwy 149 North (69 miles)
You will pass the town of Creede, and cross Spring Creek Pass and Slumgullion Pass
After descending Slumgullion Pass, cross a river and continue .2 miles to County Road 30
Turn Left (South) on County Road 30 (6.1 miles)
• There is a large sign that reads "Lake San Cristobal Recreation Area" at this junction
Follow County Road 30 past Lake San Cristobal and veer right after 4.4 miles when the pavement ends
You will reach Redcloud Ranch (the Family Ministry entrance) after 1.7 miles on the gravel road
You will reach Camp Redcloud (the Youth Ministry entrance) after 2.4 miles on the gravel road

Additional Information

Liability Form and Health Release
Sample Schedule (Coming Soon!)
Slide Show (Coming Soon!)