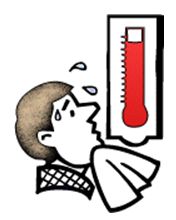 I was asked if we remembered "that camp" mentioned in my last blog where we spoke 25 years ago? How could we forget?  It has been permanently seared into our minds! We conducted a kid's program from 9 AM to 9 PM for the entire week! It was about 100-104 degrees in Texas with about the same humidity—and it was outdoors! (Perhaps that is why we began doing family camps in the cool Colorado Mountains?)
We did arts, crafts, slide programs, and tried not to go crazy with a large group of kids on such a blistery hot summer week. This would have been a great place to find out if you could actually fry an egg on a sidewalk, but we had our hands full with being thrust into children's ministry so early in our ministry without training. 
One very small girl kept wandering off from the group. Whenever we would try to bring her back in or keep her in line, she would look really sad and pout, "But my cat died." After several times we finally figured out this didn't happen just recently, but many moons ago! Kids are fun, but I wonder if she is still using that line today after 25 years?
Fortunately that camp and scorching heat didn't completely fry our brains (contrary to what some university skeptics may think!). Now we have children's ministry teams that go with us to do the kid's program. However, we don't wish to send new volunteers out without some training!
Dave Nutting
Image courtesy of:  http://www.designedtoat.com/summer.shtml
If you would like to see if an AOI seminar is right for you, or you would like to help the work of Alpha Omega Institute, please visit our website events page or our donate page. Keep up to date with what AOI is doing.  Thanks for your partnership.