When:
March 27, 2020 – March 28, 2020
all-day
2020-03-27T00:00:00-05:00
2020-03-29T00:00:00-05:00
Where:
Hastings Evangelical Free Church
2015 N St Joseph
Hastings
NE 68901

Contact:
David Demick
402-463-1441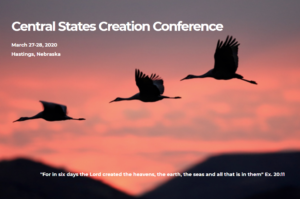 Central States Creation Conference
Hear clear teaching of the accuracy and authority of the Bible.  The focus will be on Genesis and the creation and flood accounts.  Sessions will be appropriate for grade-school and older.
Schedule:
Friday, March 27th
8:30-9:30 "It's a War Out There: The Battle for Our Children's Hearts and Minds" Dave Nutting
9:30-9:45 Break
9:45-10-45 "Genesis: Foundation for Everything" Dr. Kevin Horton
10:45-11:00am Break
11:00-12:00am "Noah's Flood: Fiction or Reality? Evidence from Archaeology and Geology" Dave Nutting
12:00-1:30pm Lunch (on your own); Semisaurus* Open
1:00-1:45 pm Doors Open-Video & Books
1:45-2:45pm "Toxic Tales-Origins and Faith Stealing Stories" Dr. Kevin Horton
2:45-3:00pm Break – Video & Books
3:00—4:00pm "Was Darwin Wrong? Part 1: Fossils and Cavemen" Dave Nutting
4:00-4:15pm Break – Video & Books
4:15-5:15pm "Was Darwin Wrong? Part 2: So-called proofs of Evolution" Mary Jo Nutting
5:30-7:00pm On Your Own for Dinner; Semisaurus* open
7:00-8:00pm "Question and Answers with presenters"
Saturday, March 28th
8:00-8:30am Doors open – videos and books
8:30-9:30am "It's About Time" Dave Nutting
9:30-9:45am Break – videos and books
9:45-10:45am "What does it Mean to be Human?" Dr. Kevin Horton
10:45-11:00am Break – videos and books
11:00-12:00pm "What Caused the Ice Age?" Brian Young
12:00-1:30pm Lunch (on your own); Semisaurus* open
1:30-1:45pm "Creation Museums and Ministries around the USA" Brian Young
1:45-2:45pm  "Blind Chance or Grand Design?" Dave Nutting
2:45-3:00pm Break – Video & Books
3:00-4:00pm "Dinosaurs, Dragons and Man: Have People Really Seen Dinosaurs?"  Dave Nutting
4:00-4:15pm Break – Video & Books
4:15-5:15pm "How Could Your Loving God Create a World Like This One …
Full of Pain, Suffering and Death?" Dr. Kevin Horton
5:15-7:00pm On Your Own for Dinner; Semisaurus* open
7:00-8:00pm "Stand Firm and Advance" Dave Nutting
8:00-8:15pm Closing