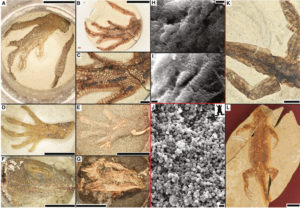 Check out the following quote from a secular source. It talks about trying to speed up the process of millions of years, but it looks like it is simply a quick process to create fossils – including quick compression under sediment – which looks identical to what we expect happened during the global flood!
"One of the biggest ingredients in the creation of a fossil is time. Lots and lots and lots of time – thousands to millions of years. So studying the process in action? That's a little tricky.
But now a team of researchers has figured out a way – by compressing that incredibly lengthy process into a day.
There is already an experimental approach commonly used to try and understand the fossilisation process.
It's called artificial maturation, and it does involve applying heat and pressure. It's not dissimilar to the High Pressure High Temperature method of creating synthetic diamonds."
Read more here: https://www.sciencealert.com/fake-fossil-method-baked-in-a-day-artificial-maturation-sediment
For more on this from a creation-perspective: https://creation.com/fossils-in-a-day
Picture source: https://creation.com/fossils-in-a-day