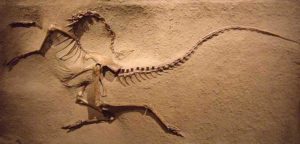 One secular source said:
"While no one knows for certain how dinosaur bones ended up in this position, the answer may lie with that liquid resource coming out of your tap. Many believe that large flooding swept up the dinosaurs, causing their deaths. In the throes of drowning, they end up in this unique pose that's typically associated with brain damage and asphyxiation."
This is Great Evidence of a Great Flood!
Quote and picture from: https://www.canadiangeographic.ca/article/dinosaur-death-pose-mystery
See also: https://blogs.scientificamerican.com/laelaps/the-secret-of-the-dinosaur-death-pose/