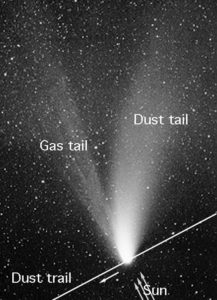 Comets are dirty snowballs that…as we would expect…burn up as they go around the sun!
So if billions of years are true as many suggest, then why do we still have comets? When I (Brian) was in a college Astronomy 101 course at a large secular University, my teacher did answer that. She said that there is a Kuiper Belt or an Oort Cloud around the solar system that occasionally throws in a new comet.
I thought to myself "Oh, okay. That makes sense."
But a few years later as I was researching comets again, I found out that there was no substantial evidence for the Kuiper Belt or Oort Cloud! So that answer is a theoretical explanation or rescuing device not based on evidence but existing to prop up the "Billions of Years" models.
See the video here for more on this: http://www.wnd.com/2017/09/oort-cloud-fact-fiction-or-phantom-rescue-device-for-evolution/?cat_orig=faith