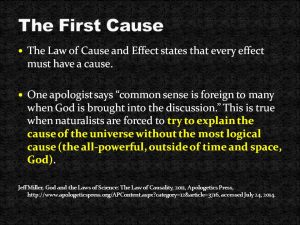 The Law of Cause and Effect states that every effect must have a cause.
One apologist says "common sense is foreign to many when God is brought into the discussion." This is true when naturalists are forced to try to explain the cause of the universe without the most logical cause (the all-powerful, outside of time and space, God).
Jeff Miller, God and the Laws of Science: The Law of Causality, 2011, Apologetics Press, http://www.apologeticspress.org/APContent.aspx?category=12&article=3716, accessed July 24, 2014.