Before I begin, I have a quick prayer request. AOI speakers have many camps and VBS' coming up, so please pray for us and for those who will be attending! Now back to the story…
When I am doing a VBS or a camp, I like to start out the week with the following scenario: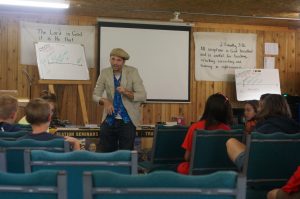 I tell the students that I am an alien. I have just arrived and I am on a scientific mission to study the human beings on Earth.
Let the investigation begin! So I ask one of the campers – "How tall are you?" I then ask them how much have they grown in the last year. Given that a camper is 5 foot tall (60 inches) and that they have grown 2 inches in the last year, simple analysis of the data (60 (inches)/2 (inches per year)) brings me to the conclusion that that camper is 30 years old! Some human beings only grow one inch per year and so must be a lot older like 60 or so!
For some reason, the campers get all riled up, it must be that this simple mathematics is more advanced than these human beings are used to and it is exciting to them! It also sometimes invokes a response to deny the truth that they are so old.
So what went wrong with this analysis?
The assumptions skewed the conclusions that I reached. I also point out that they have to have faith (based on evidence) in their parents and/or their birth certificates – that they truly do know when their birthday is and how old they are. Their current age is not something that can be proven without having some measure of faith. And faith is not blind, but very often based on evidence. These assumptions are a big part of the issues regarding the Creation vs. Evolution controversy.
Brian Mariani