I want to tell you about a powerful, reflective experience I had recently. We were blessed to be participants in teaching the students from Jackson Hole Bible College (www.jhbc.edu – we highly recommend their 1-year program) for a 2 week trip to the Southwest, including the Grand Canyon (which was just one among many significant geologic sites we visited!). It was a great trip to be a part of. (Aimee and I are actually on staff with AOI because of that trip 7 years ago!!)
The experience occurred in the middle of the trip… and on a trip like that it is hard to keep straight what day it is. We were hiking through a canyon that day – and I realized – it was Good Friday. We were seeing beautiful geology, experiencing beautiful weather, and even encountering beautiful biology! On that day, we saw a gorgeous cactus that was in bloom and it made us think about how even due to sin – due to the curse, we now have thorns and thistles, but yet God still produces beauty from the effects of sin. We saw beautiful examples of geology – beauty from the result of a worldwide flood that had to wash away the effects of sinful man.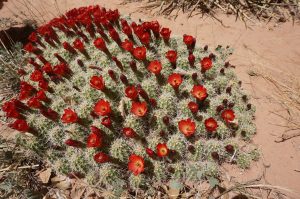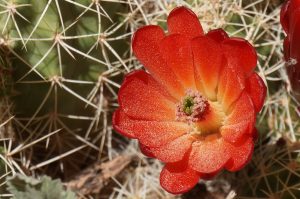 I then realized that nearly 2,000 years ago, there was a death. But from that excruciating, humiliating, and sorrowful death, three days later came beauty!!! Satan is deceiving himself in thinking that he had won, but God overcomes with His beautiful plan of new life! Praise God! What a beautiful thing to be meditating on – even in a desert!
Brian Mariani
Read more – "Why Does Beauty Exist?" (http://www.searchforthetruth.net/why-does-beauty-exist/)