On the college field trip that Mary Jo & I are leading, we see many great sites, several of which leave us with more questions than answers. One such example is: what caused the unusual formation called Upheaval Dome? Was it a meteor that slammed into the earth at this spot? Perhaps it was a fluid like bulge of a salt dome pushing it up from below? Is it a volcanic outburst? Perhaps there were giant gophers in the past that dug this immense mile wide hole?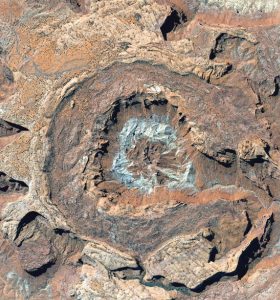 All of these ideas can be supported by some kind of evidence. Well, maybe not for the gopher idea — but gophers do dig holes.
Students on this trip are observing the features and weighing the evidence. Along these lines, they noticed that whatever caused it, pushed up and deformed the rock layers along the rim. The observation actually can fit with three of the ideas.
This is a case where we have to say … we don't really know for sure how it formed since nobody was around to see the event that is preserved in these layers of sandstone and shale. Observational science can't be applied and we are left with speculation as to the real cause. Perhaps, if someone finds a large chunk of an iron meteor deep below, it may help solve a puzzle, but it will still not rule out the other potentials. Even if there is no meteor chunk ever found, it does not negate that theory as it could have been a huge icy mass which would be totally gone now.
Theories remain theories. Each theory is at least as "scientific" as the others (except perhaps the gopher idea). Applying that to the question of origins, whether Creation or Evolution, both are theories and neither can be proven. One can use scientific data to help support the theory, but no one was there to observe the past. However, after looking at the tremendous evidence against evolution and the absurdity of many of its constructs over the years, I am thinking more and more that evolution is more akin to the gopher theory of creating Upheaval Dome.
Dave Nutting