It's that time again … one recently published, and thus, time to write another Kids Think & Believe Too (aka KT&B) newsletter. Every 2 months, AOI publishes an adult newsletter and a children's newsletter which is sent out FREE to just under nine thousand subscribers.
Dave and Mary Jo Nutting are the main writers for the adult Think & Believe newsletter, with Brian Mariani contributing, as well as other occasional guest writers . Once the drafted articles are edited, they are then delivered to a graphic artist, Mark Sonmor, who adds the artwork and layout to the newsletter.
I am responsible for writing the KT&B (with occasional help from my wife Marilyn and lots of help from the Lord). After composing a rough draft, I send the article off to many of the AOI staff for editing. After corrections of the draft, I then do all the layout, artwork, and back page puzzles. One more session of editing and correcting (if needed) and the finished newsletter is sent off to the printer and added to our website.
Lots of effort goes into each published newsletter. I begin with prayer, asking for God's guidance about a subject that would glorify Him as the Creator. After much prayer, I will then choose a topic and then begin research. Once the research is done, I begin the hardest and most painful part for me … the writing! I have shared with many over the years that writing is akin to having my teeth jerked out! Words and thoughts do not flow off of my fingertips. It takes a lot of effort to put each word, sentence and paragraph onto a page, trying to simplify the content to a level that kids (especially 3rd – 6th) can understand. Amazingly, it really hasn't gotten any easier over the many years I have been writing.  I don't have as many mistakes in my grammar or punctuation (as I did in the beginning), but I have to admit that I am still far from perfect … ask my gracious editors and they will heartily agree!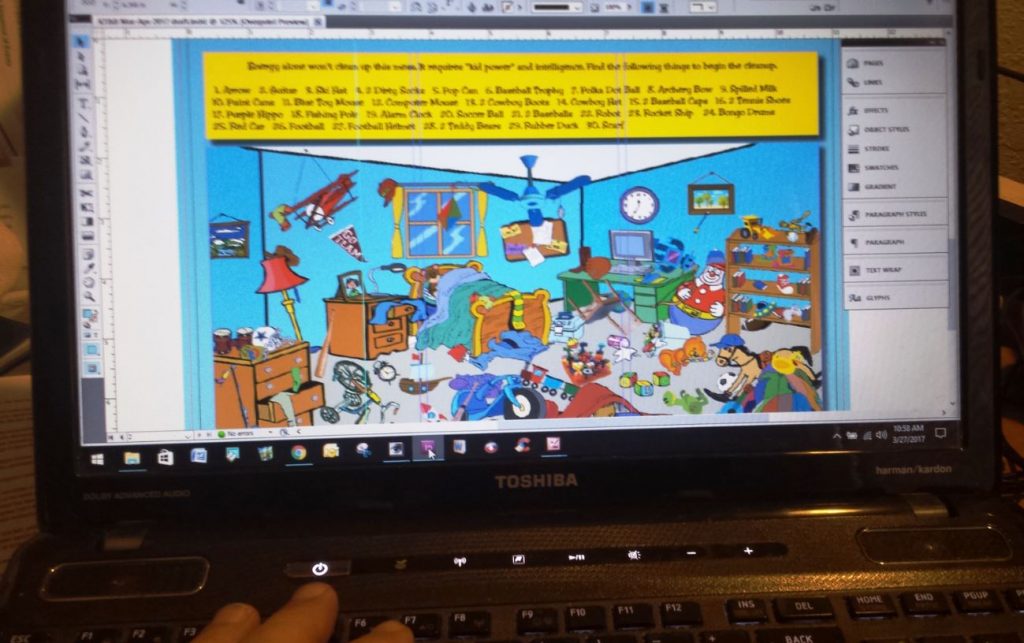 After struggling through the writing process, comes the fun part of KT&B – the layout and illustrations (the artwork) involved. I am not a gifted graphic artist like Mark Sonmor, but I have learned how to use Adobe Photoshop to compile photos and clipart into various kinds of puzzles. Even though this also takes a lot of time and effort, it is something I really do enjoy.
As you can see, each issue of the Think & Believe and KT&B takes many hours of prayer, research, writing, artwork, and editing. The reason AOI publishes these newsletters is to get information out into the world – information that we pray will glorify the Lord as Creator and Savior.
Lanny Johnson
You can get access our FREE newsletters (PDF version) by going to http://www.discovercreation.org/articles/ .
If you would like to begin receiving FREE hard copies of the newsletters (adult and kids page come together) contact us or send your name, address and email address.
Email: [email protected]
Phone: 970-523-9943 or 1-800-377-1923
Mailing Address:
Alpha Omega Institute
PO Box 4343
Grand Junction, CO 81502