As most of the speakers at AOI can attest, being out on the road at speaking venues takes us away from many of the accomplishments of our kids or grandkids. Marilyn and I have been there for the birth of all seven of our grandkids, so that has been a real blessing; however, we have also missed many of their concerts, recitals, plays, games and "firsts".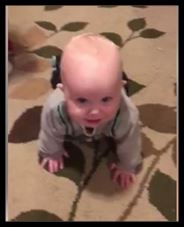 While out on the present speaking trip, we missed our 7 month old Reed taking his first crawl. I really thought he was going to pull it off just before we left, but alas, he decided to hold off until we were 2 weeks out. Before that he was actually getting from place to place at a very slow pace, but all the momentum was backwards! I had to laugh and retrieve him several different times when he backed himself into a corner and was trapped. You could see the frustration on his face … he knew he needed to go the other way, but he just didn't quite have all his forward motor skills in place yet.
Well now, Reed's forward motion has arrived! His mom sent us a video (through Facebook) of his first crawl. Right out of the chute he was a speed demon. He skipped first and second gear and launched right into third and fourth. His mom says she can't turn her back on him without him disappearing. I guess he is just making up for lost time – 7 months of just looking at stuff, but now he can go right to it! And quickly too!
I hope when I get home in 2 weeks he has slowed down a little – I am not as fleet of foot as I used to be.
By Lanny Johnson