I am now officially a father of a sweet little boy and my wife and I are loving it. He is so precious to us. We have been so blessed by the generosity of others. Normally at baby showers, you get great stuff for the baby or for the mommy, but a couple of friends gave me, the daddy, a thoughtful gift. They gave me a book entitled, "Being a Dad Who Leads" by John MacArthur.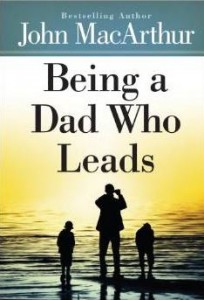 I was somewhat familiar with the author and pastor and so I was excited to dig into it, even though our baby was not even born yet. What I love about John MacArthur, remembering from one of his other books, is that he uses so much scripture in his writing and preaching… and he did not disappoint with this book.
In this book, MacArthur touched on a number of key passages and themes dealing with being a father. As men, we are to "love our wives, just as Christ also loved the church." (Ephesians 5:25) We are called to be Godly examples and leading our wives and children in a way they will notice and hopefully even the outside world will notice. The family is the primary priority – above our work.  Being a Godly father is likened to Christ's relationship to the church, and also as similar in role to a church leader, so it is important.
MacArthur also exposits the passage in Proverbs 7 about being wise and avoiding the seductress. From that passage, there is a lot of insight, advice, and guidelines for fathers to help train their children. MacArthur also describes the attributes and characteristics of the father in the prodigal son account (Luke 15:11-32) and how that represents God and is an example of how we are to be as fathers.
MacArthur encourages parents to continually share the gospel clearly. Over and over again, he refers back to Ephesians 6:4 which says, "Fathers, do not provoke your children to anger, but bring them up in the discipline and instruction of the Lord." From this verse and MacArthur's emphasis, I was encouraged to make every moment and every instance a learning experience to relate and teach God's Word to myself, my wife, and my children. Every circumstance can be used to teach us and point us to God and His Word.
I was very blessed to already have received this book and to have had the opportunity to read it, since I am just starting out. I legitimately think that raising up men to be Godly leaders of their home can change our deteriorating culture. In fact, I may buy this book in large quantities to start giving away and I may even do a book study with the fathers around me. I am even considering including the young, single men around me that will someday be fathers. This is great teaching from God's Word and it is crucial that we focus on His Word to make a difference in our families and community.
Brian Mariani
If you would like to see if an AOI seminar is right for you, or you would like to help the work of Alpha Omega Institute, please visit our website events page or our donate page. Keep up to date with what AOI is doing.  Thanks for your partnership.