There is something spectacular about getting to live what you are learning. I didn't think much about that until the years I spent working at a Christian Living History Camp in California. Each day as my fellow guides and I stepped into costume and into character, we experienced both history and ministry from a firsthand perspective. And that experience wasn't limited to ourselves – we were privileged to provide countless 4th grade campers and their parents with that same unique opportunity.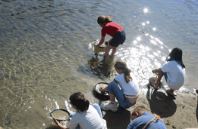 We were blessed to watch as campers, who had been learning about the California Gold Rush for months, were able to practically live history with us. We got to watch their excitement at finding gold in the river, and their disappointment when they realized that it truly wasn't an easy task. We encouraged them to think outside of their normal lives and consider what the lives of California miners were like. And best of all, we got to do all this away from their "comfort zone," which for many of them consisted mostly of indoor activities, cement, video games, and comfort drawn from the fact that they knew the nearest Starbucks was less than five minutes away (yes, we definitely drew the parents out of their comfort zones as well as the kids!). In fact, the crux of our ministry at Rock-N-Water was, and is, founded on the basis of getting kids (and parents) out into creation….experiencing God through adventures in His creation, that through witnessing firsthand what He has made, they might see Him more clearly.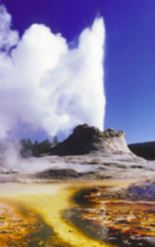 My experience at Rock-N-Water Christian camp has laid the foundation for me to be very excited about the camping ministry we have and are continuing to develop here at AOI. Our summer camps and tours offer the opportunity for youth, families, kids, and everyone in between to get out and experience Gods creation while being strengthened in their faith through amazing, and even life-changing creation science teaching. We are excited to be able to provide the chance to get out and see what God has made, as well as to provide the background pieces of scientific information that will allow people to see the beauty of creation with new eyes.
While this information is powerful and impactful in any setting, I personally feel strongly that there is a unique power and impact when it's coupled with the chance to observe the evidence of the beauty and majesty of God's creation.
As guests of AOI's summer adventures "discover creation," my prayer (along with all of us at AOI) is that they will be spurred on to "worship the Creator" who has divinely orchestrated a world scarred by catastrophe brought on by sin to still exhibit a breathtaking display of beauty.
It's not too late to register for AOI's summer Creation Adventures. Take a look and give us a call. We pray that you and your family are able to take advantage of this opportunity, and that you are mightily blessed!
Aimee Mariani
If you would like to see if an AOI seminar is right for you, or you would like to help the work of Alpha Omega Institute, please visit our website events page or our donate page. Keep up to date with what AOI is doing.  Thanks for your partnership.