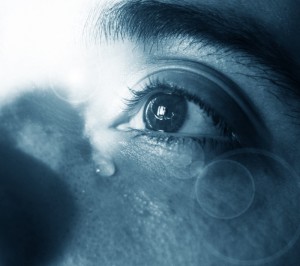 I was alerted to a photographic study, which I managed to find on the web, regarding the microscopic structure of dried human tears. Rose-Lynn Fisher, the photographer, wondered if various tear types dry into different patterns. It appears at first glance that tears of joy yield a different pattern from tears from onions, tears from grief, or just normal tears which continually lubricate the eye.
Although I had never considered that one teardrop might differ from another, it does make some sense. After all, tears released during extreme grief would likely contain different hormones that the body releases compared to those released during times of great joy. If someone gives you an unexpected check for $1000 or when you see a couple getting married, "joy" hormones could be released which would affect the chemical makeup of the tear. Hence, the different chemical properties would cause a different crystalline structure upon drying.
Although the study at this point is quite interesting, I would not say it is in any way conclusive and even Fisher makes no claims. Various temperatures of drying, humidity, etc. could make a difference on the crystalline structure. However, this is how scientific investigation begins. It involves an idea, getting preliminary results, refining the process, and then doing serious controlled investigation. If the results can be shown to be consistent, then perhaps it could later find its way into medical research in determining the state of a person, which might contribute to medical issues, diagnosis, and remedies.
I wonder what someone would think if they accidentally wandered into the research lab and noticed various individuals crying with joy while others are sobbing from deep emotional turmoil, and still others choking on fresh peeled onions.
For more information and various pictures see: The Microscopic Structures of Dried Human Tears from Smithsonian.com
Dave Nutting
If you would like to see if an AOI seminar is right for you, or you would like to help the work of Alpha Omega Institute, please visit our website events page or our donate page. Keep up to date with what AOI is doing.  Thanks for your partnership.