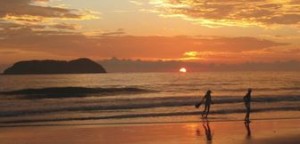 People have asked me about the reports of footprints of a human ancestor, which were uncovered by recent tides, being found in England. An article came out a couple of weeks ago in The Telegraph (April 21, 2014)  in regards to some tracks that were preserved in soft sedimentary rock. It referenced an older article (Feb, 7, 2014) by Richard Gray, a science correspondent, entitled 900,000 year old footprints of earliest northern Europeans discovered. Researchers think the tracks may have belonged to primitive human ancestors referred to as Homo antecessor, or "Pioneer Man."
Sure enough, the tracks look good. In fact, they look too good to support any evolutionary interpretation. Rather than an "ancestor of humans," they certainly look like modern human tracks.  Of the 49 tracks, not only do 29 show an arch, but many show clear outlines of the foot, and one shows a detailed toe print. All of this makes the tracks look like modern human tracks. Therefore the only "ancestral to humans" I get out of it is not "ape-like creatures," but perhaps more like great, great, great, uncle Bill.   (For more information on this discovery, see Dr. Elizabeth Mitchell's article, Ancient Footprints Place Humans in England Early In the Ice Age,  published February 18, 2014.
In 2009, ICR also reported on other tracks that were supposedly even older (1.5 million) that also looked like modern human tracks. (See Ancient Human Footprints Look Modern by Brian Thomas, M.S.)
The point in all of this (especially in this set of 49 footprints of adults and children), is that our great, great, great, grand families, just like families today, liked to take walks as a family on the beach. The tracks likely belonged to perfectly human great, great, grand children of Noah. Also, those millions of years didn't exist.
Dave Nutting
If you would like to see if an AOI seminar is right for you, or you would like to help the work of Alpha Omega Institute, please visit our website events page or our donate page. Keep up to date with what AOI is doing.  Thanks for your partnership.