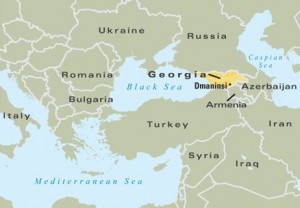 A discovery of five skulls from Dmanisi, Georgia, has added a new twist to the story of human evolution. They believe there may not have been many different evolutionary Homo species, but just one species consisting of a huge variation within that species.
"The five skulls found at Dmanisi do not seem to go together, having cranial capacities varying from 546 to 730 cubic centimeters and a constellation of features evolutionists typically assign to three different species of early Homo—Homo erectus, Homo habilis, and Homo rudolfensis."  From the article, Does the Dmanisi discovery Demonstrate We Are All One Family.
"This would lump the various human species that have been named during early Homo history into a single evolving species connecting Homo habilis to the Dmanisi humans, and forward in time to Homo erectus as it expanded across Eurasia. "We think that many African fossils can be lumped in this category and aligned with the single-lineage hypothesis," Lordkipanidze says." From the article, Dmanisi Human: Skull from Georgia Implies All Early Homo Species were One.
So some researches believe that Homo habilis, Homo erectus, Homo rudolfensis, and the Dmanisi fossils could all just be variations of the same species.
Let us review of what they found.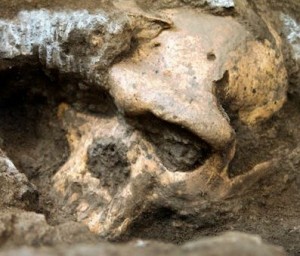 In 1991, paleontologists began to unearth fragments of skulls, miscellaneous human and animal bones, and stone tools. In 2000, researchers first found a complete lower jaw, then five years later they discovered the cranium they believe fit that jaw.  In the Dmanisi cave, they found the bones scattered and evidence of bite marks on the bones. One conclusion was that this was a carnivorous beast's den, into which the victims were dragged.
"The team found clearly human skeleton parts, along with five skulls or partial skulls. Even though skull 5 has several key features resembling an ape, not a human, the Science study authors wrote, "Skull 5 is probably associated with the postcranial [bones located below the head] elements of an adult individual with nearly modern human body proportions." From the article, New 'Human' Fossil Borders on Fraud.
As I read and study the evidence, it appears that wild animals dragged their prey into the den and scattered the remains around. Some of the prey may have been human. Some of the skulls have ape characteristics and the skeletons have modern human characteristics. There is a possibility that some of the humans could have had diseases, deficiencies, or deformities, etc., which may lead to some of the strange skulls.  Eventually the cave was occupied by humans, which is evident from the stone tools.  The humans may have hunted and brought in some of the remains that were found, and later the cave collapsed preserving the remains.
Can the Bible shed some light onto this data? Yes it can! True knowledge, wisdom, and understanding starts with the fear of the LORD.
Proverbs 1:7 – The fear of the LORD is the beginning of knowledge: but fools despise wisdom and instruction.
Proverbs 9:10 – The fear of the LORD is the beginning of wisdom: and the knowledge of the holy is understanding.
Scientists have limited knowledge, and their worldview interferes with the interpretation of the data.   So to fully understand the facts of these fossils, we must first start with a source of all knowledge.  This source is the God of the Bible, the Creator of all things …including science.
Turning to Genesis, God created and made everything in six days and so finding human remains alongside ape remains is not unexpected.  God also programmed in the DNA for creatures to reproduce after their own kind or family type.  For example, we have the dog family, cat family, or even the bacteria family.  Everything reproduces after their own kind or family type.  Dogs always stay dogs and bacteria always stay bacteria; this is observational science.  Organisms never change into completely different organisms (macroevolution).  Macroevolution has never been observed.
What most people have missed in Genesis is the phrase found in Genesis 1:22, "And God blessed them, saying, Be fruitful, and multiply, and fill the waters in the seas, and let fowl multiply in the earth."
And again in Genesis  1:28a, "And God blessed them, and God said unto them, Be fruitful, and multiply, and replenish (fill) the earth, …"
To be fruitful, multiply, and fill the earth, creatures must have the ability to adapt to different environments.  God has created a very complex DNA system so creatures can adapt to their new environments. Scripture reveals that species will change to fill the earth, this is what we call microevolution or microadaptation, and what I like to say is variation within a kind.  This is Biblical and also scientific.  But at the same time, creatures are made with limitations and cannot change into a completely different kind or family type.
With this information in mind, let us review the data.  What they found are variations of apes, mixed with human bones.  Some of these variations of apes have probably gone extinct, so we will not see those types of apes alive today.  This is not a new concept, because variations in kinds are going extinct today.  We also observe a huge variation within the human kind, and some of these variations may have also ceased to exist.
Again it is all in the family!  We have the ape family and the human family, with a large range of variation within these families.  By studying Scripture, we can come to know the truth!
Richard Stepanek
If you would like to see if an AOI seminar is right for you, or you would like to help the work of Alpha Omega Institute, please visit our website events page or our donate page. Keep up to date with what AOI is doing.  Thanks for your partnership.