Note: If you haven't yet heard, we are excited to announce that we are pregnant and expecting our first child in June, 2014! We praise God for answering our prayers and giving us the blessing of children!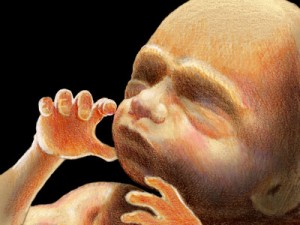 There is something mysterious and wonderful about having a baby growing inside of you. He or she is about the size of a pea pod now, and it still seems incredibly surreal. Pregnancy still felt like something my imagination had conjured up, until we got to have an ultrasound and hear our little one's heartbeat. My teary eyes saw little arm and leg buds wiggling, and our amazed ears heard the whooshing of a tiny heart beating. We could see the silhouette of this little person inside my belly! If I could look inside now, I would see a little nose and other facial features, tiny arms with hands and fingers, and little legs. His or her joints are mostly formed, and small fingerprints are forming. And within my baby's wee body ribs and vocal chords will soon be developing.  Bones are hardening.[1] This little person is looking like a baby!
When I consider all this, I marvel and am amazed at the design of our Creator God. Soon after we found out that we were expecting, my husband and I watched "Fearfully and Wonderfully Made," a lecture by Dr. David Menton. This is an excellent explanation of how the many detailed stages of the reproduction process, from fertilization to delivery, are examples of design. There are countless mechanisms and processes of development that, if they developed gradually, would cause the death of either the mother or the baby. To say that the process of evolution slowly fixed the problems just doesn't make sense in light of the disastrous effects of something being just a little bit wrong. In general, it happens so perfectly that it can only be attributed to a designer.
As I give thanks to my gracious God for the honor and privilege of caring for this tiny creation, I am reminded of the words of David in Psalm 139:
"For You formed my inward parts; You wove me in my mother's womb.
 I will give thanks to You, for I am fearfully and wonderfully made; Wonderful are Your works, And my soul knows it very well.
 My frame was not hidden from You, When I was made in secret, And skillfully wrought in the depths of the earth;
Your eyes have seen my unformed substance; And in Your book were all written The days that were ordained for me,
When as yet there was not one of them."
(Ps. 139:13-15)
To God be the glory, great things He has done
Aimee Mariani
If you would like to see if an AOI seminar is right for you, or you would like to help the work of Alpha Omega Institute, please visit our website events page or our donate page. Keep up to date with what AOI is doing.  Thanks for your partnership.