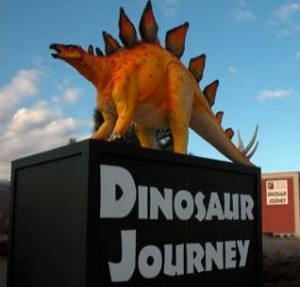 Just last month, preschoolers from Alpine Christian Academy and some homeschoolers from Basalt, Colorado came to the Grand Junction area to tour the dinosaur museum in Fruita.  We began at the AOI office with a program teaching them the truth about dinosaurs and preparing them for what they would see presented at the museum.  We then proceeded to the museum. 
I answered a few questions, but the young children were mostly interested in looking at the exhibits and having the mechanical dinosaur spit at them.  As I was waiting, I noticed another family enjoying the museum.  They caught my attention because of the book that the mother was holding, Unlocking the Mysteries of Creation.   
I introduced myself and, as we talked, discovered they were a Christian homeschool family from Texas visiting family in the area.  I offered to answer any questions they may have as they toured the museum.  They were very eager to have their six children learn a creation perspective on the exhibits, so I gave them a tour of the museum. 
We both saw the Providence of God in bringing us together.  They were interested in hearing about the ministry of Alpha Omega Institute, and were very gracious to pray for us before we parted ways.
Rich Stepanek
If you would like to see if an AOI seminar is right for you, or you would like to help the work of Alpha Omega Institute, please visit our website events page or our donate page. Keep up to date with what AOI is doing. Thanks for your partnership.