When we are on speaking trips, even our "holidays" can sometimes be spent on the road or traveling. This last one was a very special time for Mary Jo and me! We began on Friday evening by joining friends in Payson, Arizona, for a Passover Seder sponsored by their church. The visiting minister explained the details of Passover and how it relates to Jesus and our faith. The next morning we had great fellowship with our friends before heading toward home. Since it was getting late, we decided to hole up in Blanding, Utah, before continuing on.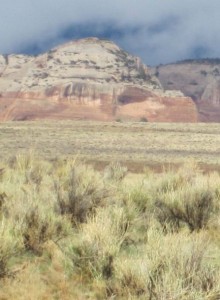 We spent Resurrection Day morning driving from Blanding, Utah, to Grand Junction, Colorado, amidst rain and ominous clouds. The dampness caused everything to absolutely stand out. The sandstones were a deep, rich red, which showed up brilliantly against the backdrop of dark clouds. Sometimes the sun broke through and really lit up the scene, illuminating every detail. It was probably the most spectacular we have seen on this drive from Blanding.
For 2 of those hours, we listened to the accounts of the Passover/Betrayal/Death/Resurrection of our Lord from all 4 of the Gospels. After that, we listened to a CD by Don Francisco and worshipped along with him for the next hour until we reached our driveway. These were some powerful, moving, and very appropriate songs for the day (He's Alive, Got to Tell Somebody, etc).  It was a wonderful time.
We arrived home just in time for a turkey dinner prepared by our son and daughter-in-law, Tim and Elisabeth. My parents were able to join us for a tremendous meal. I might add that our grandson, Samuel, was also a joy to see besides everyone else!! But then again, you probably would have guessed that. 
The day was a real blessing! We hope yours was as well!
Dave Nutting
If you would like to see if an AOI seminar is right for you, or you would like to help the work of Alpha Omega Institute, please visit our website events page or our donate page. Keep up to date with what AOI is doing. Thanks for your partnership.