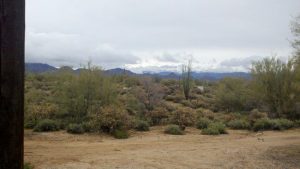 Talk about flexibility!  Due to inclement weather, we had to make adjustments to a very packed schedule.
After only 12 hours since writing my last blog, we ended up in the Scottsdale, Arizona area. This was after 500 miles of driving.  The day also included 1.5 hours at the Indian museum in Blanding, and a 2.5 hour hike into a canyon to see the drawing of a dinosaur on the rock at Natural Bridges National Monument.
We were supposed to camp at Bluff, UT, but high winds and cold temperatures in the "northland" made the college staff think it best to head to free housing in the lowlands of the Phoenix area. They also didn't like the idea of getting snowed in at Flagstaff, with predictions that there could be up to 15 inches of snow there.
In the morning, the Sonoran Desert of Arizona did not look much like a desert as it was raining hard. We were certainly glad to have a roof over our heads rather than a tent!
We will kick back, have some devotionals, and talk very little geology. As the weather clears, we will head back up into the Grand Canyon area to resume the "planned" portion of our field trip. While here, we will take the opportunity to point out the tremendous design of desert plants!
Well, hey! Be flexible! We could get up tight, but we could also see what God has in mind for us right here where we are at now.
Dave Nutting
If you would like to see if an AOI seminar is right for you, or you would like to help the work of Alpha Omega Institute, please visit our website events page or our donate page. Keep up to date with what AOI is doing. Thanks for your partnership.