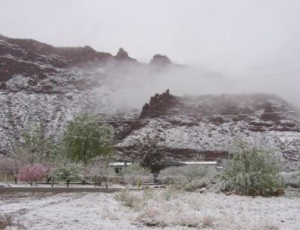 As we were preparing for a full day of field trips, with the Jackson Hole Bible College, this was the scene in what is supposed to be warm and sunny Moab, Utah. It was still snowing! The students had just came from a pile of snow and very cold temperatures in Wyoming, so they likely think this is normal. However, they did have expectations of warmer weather and had to trade in their shorts for something warmer.
We had to delay our excursion a couple of hours from where we were staying in Moab as we really wanted to have them see something other than clouds, as this is a geology and biology field trip – not a meteorology class.
This has been the case for Mary Jo & I as we have led field trips for various groups over the years, including this bible college for many years. You take the weather you get and make the most of it. One year, we were tempted to make a T-shirt which said "I slid the Grand Canyon," rather than the traditional, "I hiked the Canyon."
Other times the weather is just perfect and that is what we are hoping and praying to have for the rest of this trip!  But, by the time I had finished this blog (and sent it to Scott), it was snowing even harder!
Dave Nutting
If you would like to see if an AOI seminar is right for you, or you would like to help the work of Alpha Omega Institute, please visit our website events page or our donate page. Keep up to date with what AOI is doing.  Thanks for your partnership.