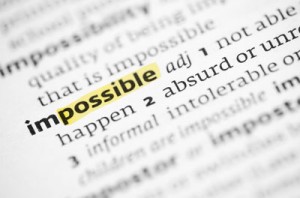 What is impossible in your life…right now? Before reading on, answer that question.
Just recently I had the opportunity to go back to the Christian high school that I taught at for the last two years to speak for their mid-week chapel service. With as much work as I have been doing preparing Creation presentations the last three months, I was actually very challenged and conflicted about what to share with them for that afternoon. One of the problems was that my students knew me pretty well and knew what "my thing" is. So I didn't want to just share something that my students have heard me share a thousand times.
As the chapel service approached, I became increasingly nervous and unsure of what to speak on. I continued praying that God would give me the right words to speak.
Aimee and I were staying with some close friends while we were visiting the area, and it was such a blessing to see them again. We had a wonderful time being encouraged and encouraging them in our new seasons of life.
One day before the chapel service while visiting with our friend Patty, she sincerely asked questions about what we are doing and, more importantly, why we are doing our creation ministry. I shared my usual viewpoint that there are so many confused and deceived people dealing with the issue of evolution and the truth of the Bible.
I will admit that sometimes I have a hard time communicating or showing passion, but Patty is not like that. She caught on right away. She began exclaiming with passion her own experience that we serve a BIG GOD and that a lot of people don't truly believe that and that they don't truly believe God at His word. She commended us for our work and sent us out with an added fire within us that our message is true. Do you really believe the Bible? Do you really believe God? How Big is Your God?
It was the morning before the chapel service. I woke up, but just lay in bed, because my mind was still reeling with thoughts from our conversation the day before. I was still connecting the dots and praying that God would clearly show me what I was to share and to give me a peace about it. The longer I lay there, the more the thoughts swirled and twisted until eventually I had to write them down… before they swirled away never to be connected again.
I started writing. My mind jumped to verses from the Bible. I wrote those. I connected more thoughts. God was working. I was excited and at peace feeling confident about what was pertinent to share at chapel. God answered my prayer!
At chapel, I shared most of what lies below. This is the outline for the talk. I encourage you to spend a devotion time this week going through it and you can also read more of what I have written about it at our personal blog Adventures in Faith.
What is impossible in your life right now?
Read Psalm 37:1-11, 17, 23-25, 34, 37, 39
Sufficiency – 2 Cor 3:5
     Give up control
     Wait on the LORD
     The LORD will provide
Don't learn the hard way.
Make my will become God's will (Luke 22:42, Rom 12:1-2)
God always answers our prayers: Yes, No, or Wait.
I shared how God provided our house to move in to and some financial blessings that God provided for us.
Wait on the LORD and He will provide (Is 40:31 and Rom 8:28)
Our desires and will become God's desire and will for us. (Matt 6:10, Luke 22:42, Rom 12:1-2)
How Big is Your God?
Did God create everything or just use evolution?
-Why do we not believe Him? Who do we believe more?
Read Matt 6:25-34, 7:7-17
If you are single, do you believe that there could be a plane crash right outside and a guy or girl could crawl out of the wreckage and that could be the one God has for you to marry?
What is impossible in your life right now?
God could move a mountain right outside your door. (Matt 17:20)
God can do the impossible. (Matt 19:26)
Do you really believe the Bible?
Do you really believe God?
How Big is Your God?
Brian Mariani
If you would like to see if an AOI seminar is right for you, or you would like to help the work of Alpha Omega Institute, please visit our website events page or our donate page. Keep up to date with what AOI is doing.  Thanks for your partnership.