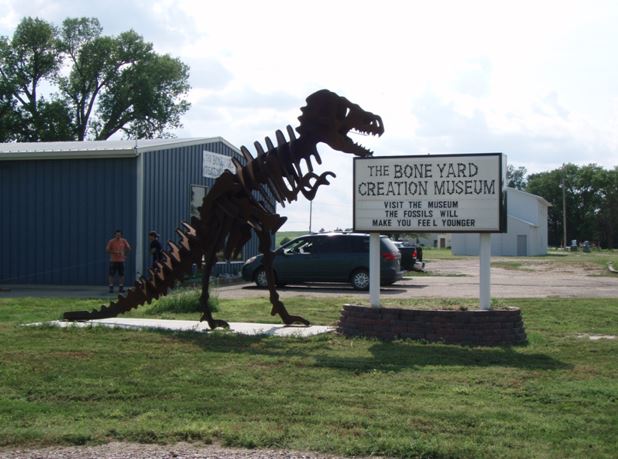 On our recent trip to a friend's wedding, Aimee and I were driving through the middle of Nebraska, through big farms and small towns, and just so happened across "The Boneyard Creation Museum" in Broken Bow, Nebraska. That night we didn't have the chance to visit, but immediately thought, "WE NEED TO GO THERE!"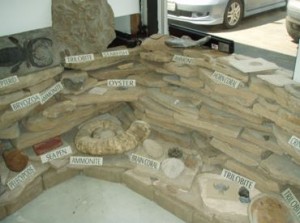 So Monday morning came and we were again in the middle of rural Nebraska, on our way back home, and pulled up with great anticipation of what we might see and experience at "The Boneyard." We made it to the door and saw the sign with the words "Closed on Mondays," and our hearts sank a bit, but the door was open and we saw a few people inside…so we inquired about entrance. The owner said, "Come on in!" There were some other visitors who had asked to come, so the owner had arranged to meet them for a tour. Praise God for the perfect timing to allow us the opportunity to tag along!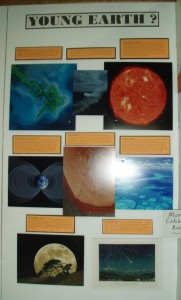 This museum was a rather unique find! One of our goals at AOI is to train others about Creation in a way that they can go out and multiply the work and share the message of Creation… and ultimately the gospel. We want to go a step further and make disciple-makers…and not just disciples (although that is good too).
So right now, I am all about seeing small local Creation groups and Creation Museums "pop" right out of the cornfields! In fact, we are working on resources to prepare you to start your own creation groups and museums, or maybe, just the right resources for you to simply host a Bible study…without a lot of headaches.
"The Boneyard" has a number of fantastic exhibits, many of which are home-made and well done. The museum is a small, well decorated warehouse that has great sections about Worldviews, Timelines, Astronomy, Dinosaurs, Spontaneous Generation, Homology, Natural Selection, Mutations, Supposed Human Ancestors, Radiometric Dating, Mount St. Helens and more! There are some wonderful hands-on demonstrations and an excellent collection of fossils. There are even four video stations you can visit!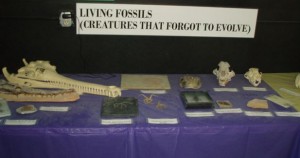 The owner assured us that it is still a work in progress, but it is already a great testimony to truth for the surrounding rural communities. Check out their website.
We are excited and look forward to supplying you with resources on how you can set up your own ministry, and who knows…maybe that garage of yours will become a fascinating new local attraction!
Brian and Aimee Mariani
If you would like to see if an AOI seminar is right for you, or you would like to help the work of Alpha Omega Institute, please visit our website events page or our donate page. Keep up to date with what AOI is doing.  Thanks for your partnership.