On Mother's Day, I was getting ready to leave home and go to the church my Mother and youngest daughter attend. Ten minutes before I was to leave, my son-in-law who teaches a Bible study class for deaf adults, called and asked if I could teach for him that morning … our youngest granddaughter had the flu and he needed to stay home with her. This was because his wife, my daughter, was interpreting for the deaf during the church service. Also, he teaches Children's Church, and asked if I would also do something for them. Ten minutes is not much warning, especially with two very different age groups. However, I was prepared!
I have a computer and projector that I use to teach with throughout the year. They are all packed in one travel bag, along with all the necessary cords, remotes, etc. All I had to do was grab the bag, load a projection screen into the car, and I was ready to teach.
As I drove to church, I chose the subjects I would teach. I chose a simpler subject for the adult deaf class, with lots of visual images, because the interpreter would have even less time for preparation than I. For the children (ages 5 years old to 12 years old) I did one of my favorites – Design in Animals.
God calls all Christians to be ready to share the Word. "Preach the word! Be ready in season and out of season. Convince, rebuke, exhort, with all longsuffering and teaching." (2 Timothy 4:2)
Lanny Johnson
Church Signs of the Week: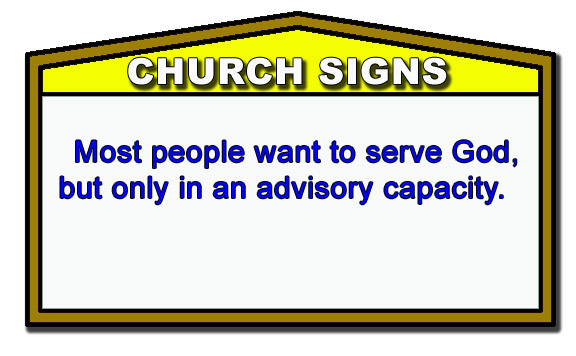 If you would like to see if an AOI seminar is right for you, or you would like to help the work of Alpha Omega Institute, please visit our website events page or our donate page. Keep up to date with what AOI is doing. Thanks for your partnership.