Marilyn shared in her blog, "But God You Promised," about a new camper God has blessed us with through the generous giving of a supporting family. The newer camper (1997) is replacing an older (1986) motorhome we have used for many years of travelling in this ministry.
However – age, wear, and lack of fuel economy have made the motorhome unaffordable to travel with on long tours. Earlier last year, we were able to buy a used diesel pickup with the pulling power and fuel economy for a trailer, so the gift of the trailer has truly been an answered prayer.
The gift has not been without some minor predicaments. As with anything you buy used, you can expect some problems to occur. It was too cold in Grand Junction to test the water system for fear of the pipes freezing. We decided to "dry camp" for the first few days of our ministry trip as we headed towards Texas.
In New Mexico, I filled the water lines and discovered that the previous owner had done a poor job of blowing out the water lines. We had several pipes broken in a very hard to get to area of the trailer. I would get one section fixed and another leak would show up.
A few of the pipes were in an area that had such a small access hole that I could not get to because of my size. Marilyn was able to barely squeeze in with her head and one arm to reach the offending leaks. By my talking her through the process, she was able to one-handedly cut the broken pipes, and glue on the new fittings and pipe.
After two days of travel, and working on water lines at rest stops, we had water! God had answered another prayer … we had prayed for the ability to make the repairs. Granted!
Please pray for us as we travel on down the road and fix any new problems that are bound to come our way just so God can show His power!
Lanny Johnson
Church Signs of the week: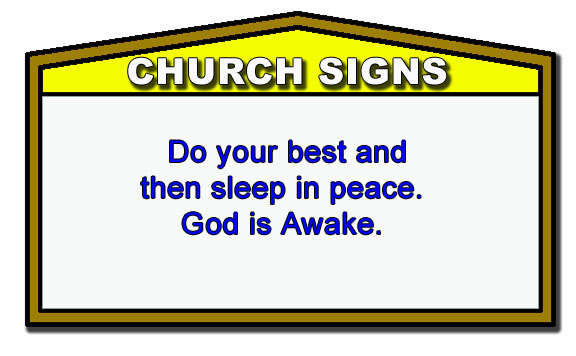 If you would like to see if an AOI seminar is right for you, or you would like to help the work of Alpha Omega Institute, please visit our website events page or our donate page. Keep up to date with what AOI is doing.  Thanks for your partnership.