Last night I was able to share with a group of adults about the Origin of Man. This talk takes a look at the lack of evidence, mistakes, and misinterpretations regarding the evolutionary origins of man. I was also able to share a brief look at the problems with the dating methods being used today.
After the talk, one young man approached me and said, "I sure wish I had heard this information before I went to college!" He shared that he had a degree in micro-biology, and had been required to take several classes on evolution.
I asked him if he had begun to believe in evolution because of what he was taught in college. He said no, he has a strong Christian background with strong Christian parents (Praise the Lord). He said his problem was that he was vocal about his belief in God as the Creator, but didn't have enough information to refute what was being taught. He said the information, I had just presented, would have helped him to be a much better witness to his professors and classmates.
Many times in my life I also have wished that I had heard the information that we teach at AOI when I was young. Maybe if I had heard the truth, I would not have fallen away from God and been an atheist for over 20 years because of evolutionary teachings.
Lanny Johnson
Church Signs of the week: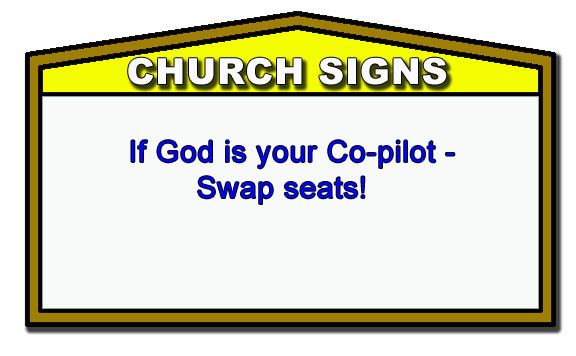 If you would like to see if an AOI seminar is right for you, or you would like to help the work of Alpha Omega Institute, please visit our website events page or our donate page. Keep up to date with what AOI is doing.  Thanks for your partnership.