The other night, I presented a program called "Noah? A Flood of Evidence" to a group of eager learners at AOI's center in Grand Junction. Part of it dealt with the huge floods resulting from breached dams, including Lake Bonneville and Lake Missoula, both of which almost instantaneously carved enormous canyons. The next morning, I noticed Richard Stepanek's earlier blog called "A Tour of Catastrophes," where he mentions how traveling on their speaking trip from Colorado to the Pacific coast, he and Sue were driving through "overwhelming evidence of past catastrophic events."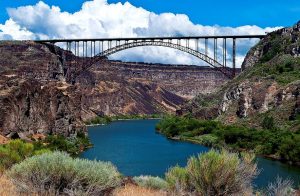 That is 100% true; however, I venture to guess that most "tourists" driving through these areas of the west and northwest would merely think that this is just "amazing scenery!" However, they would likely miss the fact that this "amazing scenery" is the result of huge floods! The reason I mention this perspective, is that I recall a trip I was on through the Northwest in the early 70's… before I even heard of creationism. Mary Jo and I had no clue that the many canyons we wound through on serpentine highways were huge channels carved out in only one or two days by the enormous Missoula Flood. Nor did we realize that the huge and steep rolling hills (the ones Rich mentioned he wouldn't want to run farm equipment on), were actually piled up debris that was scoured out and deposited as rolling hills (ripple marks) from this same Missoula Flood.  We also did not realize that the amazing Twin Falls, and even the Snake River Canyon (pictured above) itself, was not there prior to the Lake Bonneville Flood.
Even after hearing about the Missoula Flood and having revisited the area, we still missed most of the major features which are now known to have been formed by the huge walls of water which carved out canyons in some areas and deposited huge boulders in others during this catastrophe.
Today there are signposts on some of those features, in places like: Dry Falls and Palouse Falls (Missoula Flood), and the Twin Falls of the Snake River canyon in Idaho (Lake Bonneville Flood). Several signposts mentioning these great floods have also been erected at various places through the Northwest, including sections of the Columbia River Gorge leading to Portland, Oregon.
It took a lot of research to see the real significance of this entire region! By the way, even if you travel from Grand Junction southwest to California, you will also be travelling through more "amazing catastrophic scenery."  Much of both the Northwest and the Southwest was shaped by enormous floods of the past. These include fairly recent catastrophic lake drainages as well as runoff from the much greater worldwide Flood of Noah's day. Now, Mary Jo and I, and others on the AOI staff, take people on tours to see these sights which have become much more than just "amazing scenery" to us and to those with us. These "amazing scenery" sights truly shout of "overwhelming evidence of past catastrophic events."
Dave Nutting
(For more information, search "Missoula Flood" on this website to find many articles which feature this amazing catastrophic event.)