In researching about both speakers, they have two very different worldviews, perspectives, and goals. Ken Ham has been very active sharing his perspective and worldview for practically all of his life. He started out teaching public school science in Australia, but eventually moved to the US to work with Creation ministries.
Bill Nye has been a popular science teacher for many years, and recently, he has been especially outspoken on what he perceives are the dangers of allowing the US to slip in our position and emphasis in science. He passionately shares how he feels creationism is unscientific, evolution is basically a proven fact, and how it is wrong to teach children these erroneous viewpoints about science. He says he wants people to understand what science is and that through science we can then better impact our world.[i]
He said that he did not want to come as a scientist or to just spout off science, but he wants to teach people that evolution is proven science and that it is not acceptable to believe or teach creation as a scientific model. He has said that "your world just becomes fantastically complicated when you don't believe in evolution."i
Many secular and atheist individuals have warned not to do debates with creationists, because that gives creationism a platform or an opening to try to spread their non-scientific views. They don't even want to give creationism a platform, or an option, to be heard or thought of as science. One atheist even gave Bill Nye tips on debating Ken Ham. Ultimately, Nye took the debate to raise awareness that "we need them (your kids), we need scientifically literate voters and tax-payers."[i]
Here is a challenge that I might offer: Giving students numerous models (scientific, philosophical or religious) that they have to study and search out will make students more skeptical, critical, and better informed about each side and about what is truly science, philosophy, and religion. So teaching Creation and Evolution will help students to be critical and skeptical in searching out truth and to not just believe one side.
In fact, Ken Ham takes an even less imposing strategy on education by saying that "while we are not in favor of mandating that creation be taught in public school science classes, we believe that, at the very least, instructors should have the academic freedom to bring up the problems with evolution."[ii]
The debate's focus was on this question: Is creation a viable model of origins in today's modern scientific era? Both men were very cordial, kept to time, and played by the rules with very little mud-slinging. Out of all of Ken Ham's presentations, I thought he did one of his clearest presentations yet. Albeit, there was still a lot of material that could possibly go over peoples' heads …especially if they were not familiar with the Creation perspective. By using video testimonies, he made the case that there were real scientists that rejected evolutionary naturalism and favored Biblical Creation. Ken Ham also made a clear distinction between observational science and historical science.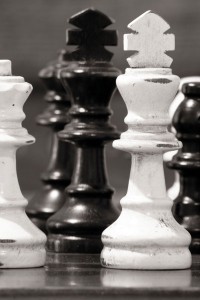 Bill Nye was, as always, more entertaining and less staged than Ken Ham. But, Bill Nye did not make strong connections or explanations for the various scientific arguments that he used for evolutionary naturalism. I was surprised at many of the evidences that Bill Nye brought up, because many of those evidences have very consistent (or better) answers from a Creation perspective. In fact, Creation Ministries International wrote a response to the debate (http://creation.com/ham-nye-debate) and linked it to many articles where they explain the creation perspective for the evidences that Bill Nye used.
Coming from a creation perspective, Nye's arguments are fairly weak and so I was surprised that he was not as researched and knowledgeable about the creation perspective. I think Bill Nye would be surprised at the level of scientific complexity and research that has been done by creationists and I would simply challenge him, or any other atheist or evolutionist, to honestly search out and understand the complete Creation Model. I also challenge all creationists to study and understand the entire Evolutionary/Naturalistic Model.
One of the biggest issues in regards to the Creation/Evolution debate is that both sides are very often ignorant of the other perspective. I think it is important to study BOTH and then consider which one makes more sense.  I think if students did that, they would be much more informed and scientifically literate.
Ultimately, I hope that Ken Ham and Bill Nye will continue dialoguing and corresponding. I think Bill Nye would be fascinated by the science incorporated in creation models. As this has been one of the most popular Creation/Evolution debates, I really appreciate Mary Jo Nutting's reminder that "we really need to be praying for God to speak through Ken Ham (and all of us as well) to reach this generation with the truth. We also need to pray for God's grace and compassion to shine through Ken and all of the other staff at AiG. Our desire is not for Bill Nye to look bad, but for the lies of evolution to be exposed and for Bill Nye and MANY others to come to the knowledge of the truth." Ultimately, the crux of the matter is to share God's Truth with others that they might be saved and that God would be glorified. I hope and pray that God might open Bill Nye's eyes and heart so that he could be a tremendous tool in God's hands for spreading His Truth!
You can watch the debate for free at http://debatelive.org/ for a limited time after the debate. There is a follow-up answers session featuring Ken Ham and Dr. Georgia Purdom on that website as well. Consider how you can use this debate to reach out to family, friends, or coworkers and to be able to share the gospel. Keep studying and Praise God for what He has done!
By Brian Mariani
If you would like to see if an AOI seminar is right for you, or you would like to help the work of Alpha Omega Institute, please visit our website events page or our donate page. Keep up to date with what AOI is doing.  Thanks for your partnership.
---
[i] Bill Nye: Creationism Is Not Appropriate For Children, Big Think Video, Published August 23, 2012 on Youtube, http://www.youtube.com/watch?v=gHbYJfwFgOU, accessed February 6, 2014.
[ii] Ken Ham, Ken Ham: Why I'm debating Bill Nye about Creationism, CNN, Belief Blog, http://religion.blogs.cnn.com/2014/02/03/why-im-debating-the-science-guy-about-creationism/, accessed February 5, 2014.