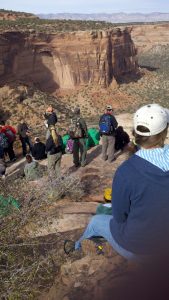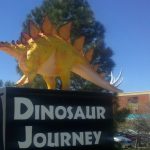 Our caravan is 40 strong! Mary Jo & I are leading a group of 31 Jackson Hole Bible College students, plus their staff, on a 12 day field trip of the Southwest. So far, we have had a series of Creation classes before we left Grand Junction, a tour of the Colorado National Monument, Dinosaur Journey Museum, Dinosaur Valley excavation site, and now we are at Moab, Utah.
All along the way, we are giving "mini" lectures relating to the site, putting them in the light of the Creation/Fall/Flood context as given in the Bible.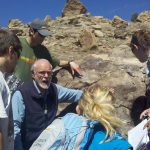 Our "motel" for last night and for the next couple of nights is the floor of the church. Since it is a smaller church, you can certainly expect the noise level to be significant. It is great to find a reasonably quiet nook to write this blog.
Note the pictures of some of the sites we have been to already. I will keep you posted as we go along.
Dave Nutting
P.S It may be a long trip unless we find better bathroom facilities –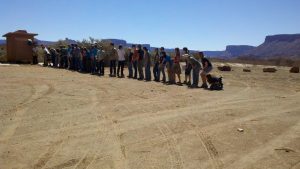 If you would like to see if an AOI seminar is right for you, or you would like to help the work of Alpha Omega Institute, please visit our website events page or our donate page. Keep up to date with what AOI is doing. Thanks for your partnership.