Discover Creation with AOI
Welcome to Alpha Omega Institute's new website! We're glad you took the time to check us out. We are unashamedly Biblical in presenting our views, yet we are seriously dedicated to presenting scientific and historical evidence to back up these views.
If you are a Christian, we believe you will find lots of evidence on this site to affirm your faith. If you are a searcher or a skeptic (like some of our staff used to be) we welcome you! We hope you will explore the evidence with an open mind, consider how you came to your current beliefs, and seriously contemplate how your view of origins impacts your life and destiny.
Welcome to the journey!
This is intriguing. For years evolutionists have been predicting — then claiming without proof — that a high percentage of our DNA is "junk" – the leftovers from millions of years of evolution. Creationists predicted that since God doesn't make junk, we will find important uses for so-called "junk DNA." When we pointed out that virtually everything that was called "junk DNA" has now been shown to have important and sometimes vital functions, the...
Read More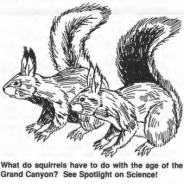 Today, AOI Speaker Brian Mariani is at the Grand Canyon leading a Creation Tour for Jackson Hole Bible College! Be praying for students and staff for travel mercies and a blessed trip! Here is a Nugget – – The white-tailed Kaibab squirrel on the North Rim is a variation of the white-chested Abert Squirrel on the South Rim. "The Canyon acts as an effective barrier which separates the squirrel population of the north...
Read More