Discover Creation with AOI
Welcome to Alpha Omega Institute's new website! We're glad you took the time to check us out. We are unashamedly Biblical in presenting our views, yet we are seriously dedicated to presenting scientific and historical evidence to back up these views.
If you are a Christian, we believe you will find lots of evidence on this site to affirm your faith. If you are a searcher or a skeptic (like some of our staff used to be) we welcome you! We hope you will explore the evidence with an open mind, consider how you came to your current beliefs, and seriously contemplate how your view of origins impacts your life and destiny.
Welcome to the journey!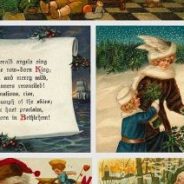 One of the great blessings of the Christmas season is to connect by cards and letters with family and friends that we have not seen or spoken with through the year. One recent card we received was from a family that had attended an AOI creation seminar. The mom shared how she, a teacher, was able to explain to her students the difference between micro and macro evolution. "My students are listening!" she said, "what they...
Read More
Here is a fascinating article – it shows how there is evidence of magnetic reversals "frozen" within the layers of rock. But what this article focuses on is research on a very small volcanic rock layer that based on its size could have only cooled (from lava) and formed within 15 days. What is significant is that it shows the complete magnetic reversal from the volcanic layer below and the volcanic layer above. This shows...
Read More