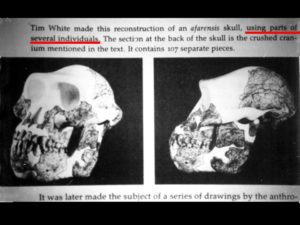 Scientists claim that they have found 360+ fossil specimens of Australopithecus – that is Lucy and her family. Lucy has been regarded as good evidence of evolution from ape-like creatures to humans, but it looks like Lucy and her family have been taken out of the human evolutionary tree – meaning that they are simply a side branch and not in our lineage.
"The australopithecines known over the last several decades…are now irrevocably removed from a place in the evolution of human bipedalism…All this should make us wonder about the usual presentation of human evolution in introductory textbooks."
Oh and most of those 360+ specimens are tiny fragments!!
See this clip for more: https://youtu.be/K_kNtnFc5ps?t=350