What conditions cause such distortion when burying creatures so large??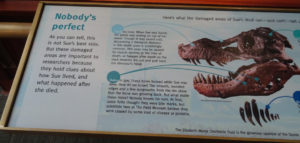 Open image in a new tab for enlarged view or read the quote here:
"Nobody's perfect
As you can tell, this is not Sue's best side. But these damaged areas are important to researchers because they hold clues about how Sue lived, and what happened after she died.
Crushed nose. When Sue was found her pelvis was resting on top of her snout. Though it may sound odd, discovering a theropod dinosaur in this death pose is surprisingly common. This pose may be cause by muscle spasms at the time of death, or happen after death as the neck muscles dry out and pull back the dinosaur's head."
Picture Reference: https://crowsnestadventure.com/2017/09/03/chicago-museum/