Two mornings ago, as I was brewing my morning cup of coffee, I looked out of the kitchen window and saw a deer nibbling the leaves on one of our trees. It began to move off, so with coffee in hand, I adjourned to our living room for my morning Bible study. As I entered the living room I looked out the windows to see two more deer grazing in the yard. Even in the faint light, I could see that they were both does. Presently the other deer, that I had seen earlier, wandered into the same yard. By looking closely, I could see two small two inch protrusions between its ears. I was looking at a buck with his newly developing antlers just emerging. Glancing at our pond I saw two ducks slowly paddling and feeding.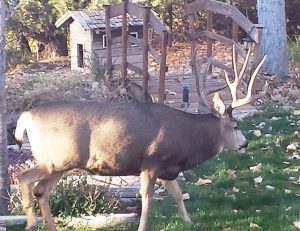 Using binoculars in the low light, I observed that they were wood ducks – a drake and hen. On the other end of the pond was a pair of mallards.
About 30 years ago, God blessed us by allowing us to buy a home on 2 ½ acres of property. We are situated on a point with two canyons marking three of the property's sides. Even with an elementary school behind us and a neighbor's home, which is about 200 yards away, the abundant trees and foliage surrounding us create a very peaceful sanctuary.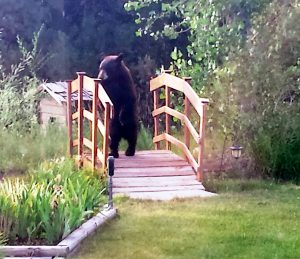 Over the years we have had a lot of different animals wander through and hang out in our yard. We have seen pheasant, quail, blue herons, ducks, robins, flycatchers, sparrows, hummingbirds and many other varieties of birds visiting us. We have had coyotes, bobcats, a bear, a mountain lion (only observed tracks), deer, raccoons, skunks, dogs and feral cats travel across our yard. This morning we were blessed to see a red fox! Each morning and evening is a new adventure in observing some of God's living creations.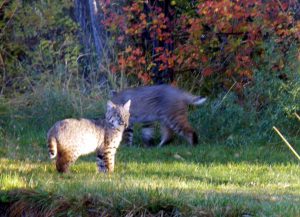 As I settled in for my Bible study, I realized that reading God's Word is very much like the joy and adventure I had just experienced with observing the deer and ducks. Even though I have observed many deer, ducks and other animals over the years, each encounter is like a new discovery. I find the same thing happening as I study God's Word. Even though I have read and studied the Bible through numerous times, each reading is like a new encounter, learning new principles and insights that I had not previously gleaned.
Many, O LORD my God, are thy wonderful works which thou hast done, and thy thoughts which are to us-ward: they cannot be reckoned up in order unto thee: if I would declare and speak of them, they are more than can be numbered. Ps. 40:5
by Lanny Johnson