As Sue and I traveled through Colorado, Utah, Idaho, Washington, and Oregon on a creation tour, we witnessed a number of different terrains and geologic features that speak of a catastrophic past.
In Utah, we drove through what used to be ancient Lake Bonneville, which eventually drained causing a catastrophic flood which would carve the Snake River Canyon. The mountains of northern Idaho were a beautiful sight created by the world changing Flood in the days of Noah.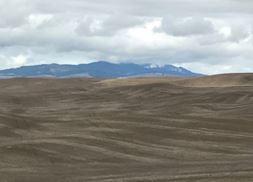 As we approached the state of Washington, we were amazed at the rolling hills… and I mean rolling hills!  They actually farm these hills with the help of special combines.  I do not think I would want to drive their farming equipment.  Too steep for me!
As we traveled west we entered into the Channeled Scablands of Washington and Oregon. While heading toward a canyon, I assumed we would have to cross a bridge, but to my amazement there was no bridge and no evidence of a river ever carving the canyon.  Actually we drove through a few of these 'riverless' canyons.
We also had the opportunity to visit the beautiful Palouse Falls in eastern Washington.  It was interesting to see that the signs on display here that also spoke of the fact that this sight and the Channeled Scablands were formed by a catastrophic flood.
The geology… all the way from Colorado to the Pacific Ocean… shows overwhelming evidence of past catastrophic events. It was an amazing trip in so many ways.
Rich Stepanek