The best laid plans and preparation don't always go as planned. Last week we prepared our truck and 5th wheel trailer for its first spring road trip. We were heading to Albuquerque, NM, and a nearby community to teach at a church, followed by a three day homeschool conference, where we were speakers as well as having a booth.  I had de-winterized the trailer, checked all the mechanical and electrical equipment and checked propane levels and tire pressures. Then the same process for the truck – tire pressures, fluids and fuel. Finding them all in working order, we began the chore of loading the groceries, clothes and personal items. Once that was done, we loaded about 16 boxes of books, computers, projectors and other ministry gear. After double checking supplies, I hooked up the truck and we were ready to go.
And the journey began! Because I had a seminar to do about 40 minutes south of Albuquerque (about 400 miles) on a Wednesday night, we left Tuesday morning about 10:00 am, to allow a little extra time in case of road problems. This is something we have learned to do, over the many years of travelling , when a lot of mileage is involved. On this trip we ended up using every bit of that "extra time."
About an hour out of Grand Junction (where we live), my diesel truck was purring along when I began to hear a faint noise coming from under the hood – "ticky … ticky … ticky." Now anyone who drives a diesel knows that that is a normal noise, but this was an unfamiliar "ticky" to my ears. The sound would come and go. After just a few miles, the "ticky" changed into a louder intermittent "Ticky." Stopping and looking under the hood, I could find no cause for the ticking. We were about half-way between Grand Junction and another town where we might get the problem looked at, so after a call to our mechanic, we headed back to town. On the return trip back the "Ticky" sound began to turn into a "Tacky … tacky" noise. By the time we got home it was "TACKY … TACKY." The truck was still running real well, it was just getting noisy! Stopping by the house, we parked and un-hooked the trailer, unloaded all the books out of the truck and headed to the mechanic. After the mechanic declared, "It doesn't sound good," we went to plan B.
Back at the house, we unloaded the trailer and packed our minivan with just the essentials … all the books, computers, projectors, clothes and a few groceries. Three hours later (4:00 pm) we were on the road again. As we traveled, we cancelled our reservations at an RV park close to the conference. Then once again… trouble struck! Only 78 miles from home we had a rear tire blow out. Because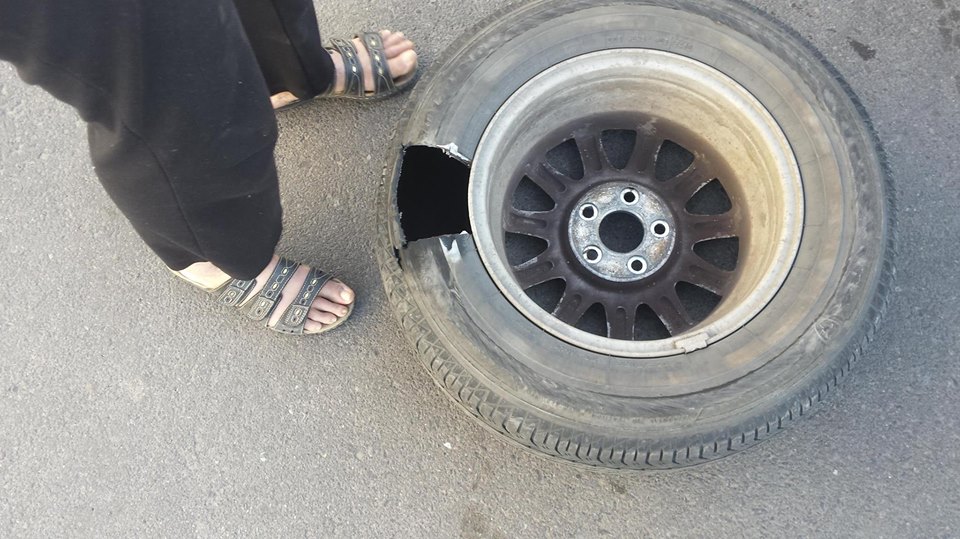 minivans have a small spare tire, and we were carrying a lot of weight and the road was narrow and very busy, we opted for calling a tow truck, compliments of our insurance company. The tow truck arrived just a little after 6:00 pm and delivered us to a Wal-Mart in the previous town (arriving about 6:45 pm). Wal-Mart was the only tire service still open at that time, and they were closing at 7:00 pm. But praise the Lord, they had a tire for us and we were repaired by about 7:45 pm.
So off we go! Well not quite. When the tire blew, unfortunately, it ripped apart some of the heavy rubber mud guard behind the tire. It was rubbing heavily on the tire. The tire guy (already working overtime) said he wouldn't work on it, which was okay with me, but I had a problem … no tools! After 3 trips into Wal-Mart, purchasing tools I only needed for this one repair (I had everything I would have needed in my truck!), I finally removed the offending guard. By this time it was after 9:00 pm, so we got us a really cheap room at a "roach" motel, and got an early start the next morning.
We did make it to our next stop on time and with no more vehicle problems. Now some might get discouraged when things like this happen, but we saw the Hand of God with us all the way. No one was hurt, and we ended up having 4 days of wonderful ministry. He truly is our Rock!
Lanny Johnson