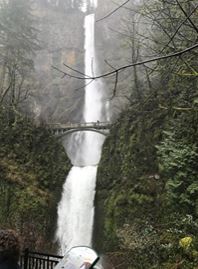 After a recent seminar tour, we discovered that spring is a great time to travel through the Pacific Northwest, especially when they have had an abundance of rain, along with a little snow. It makes for LOTS of water!  We had the privilege of stopping to see several waterfalls as we journeyed through the Columbia River Gorge.  They were very full and exceptionally beautiful, even in the rain!  It was also fascinating to see the immense amount of moss growing on the trees!  It was just green everywhere!  It reminded us of the fact that water is essential for life!  Water has such unique properties that no other molecules have.
The maximum density of water is not when it freezes into ice at 32°, but just before it freezes at 39° F … thus water expands upon freezing. This is an extremely beneficial thing for lakes in cold winter areas. The lakes began to freeze from the surface down, thus creating a floating layer of insulation, preventing them from freezing entirely.  Water is frequently called the universal solvent, making it an excellent molecule for washing away dirt.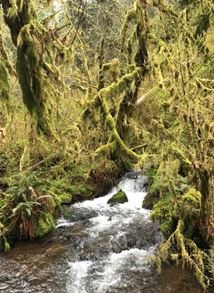 Another property of water is that it causes hydrolysis of polypeptides, as the quote below from Answers in Genesis states further.
"Because life could not have originated on land, some evolutionists propose that life started in the oceans. The problem with life starting in the oceans, however, is that as organic molecules formed, the water would have immediately destroyed them through a process called hydrolysis. Hydrolysis, which means "water splitting," is the addition of a water molecule between two bonded molecules (two amino acids in this case), which causes them to split apart. Many scientists have noted this problem." *
So it seems, water is an invaluable friend of life, but a foe of evolution and its origin of life theory.
Rich Stepanek
*(https://answersingenesis.org/origin-of-life/can-natural-processes-explain-the-origin-of-life/)