Two weeks ago, Marilyn and I had the opportunity to teach at a Christian Academy in Vernal, Utah and a Sunday morning and evening at a church. Since Saturday was a free day, we went on a hunting trip, looking for a picnic and campground that I fondly remembered as a young boy. Sounds simple enough, but the last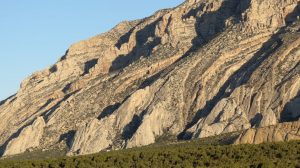 time I was there was over 60 years ago, and so my memory juices were really put to the test. I didn't end up finding the campground … it is no longer there. I did however find a turnout that had information about the camp. A family who owns the property had leased an area of their property to the Kiwanis club. The club put in bathrooms, picnic tables, shelters and a ball field. There were lots of large shade trees that were great for climbing, and rock formations that were also fun to crawl and climb around. Over time the campground became too much for the club to maintain, so they relinquished the lease back to the family and the park was closed to the public.
Visiting Vernal is always a step back in time for me. My father moved the family there in 1956. I was only 6 years old at the time. We lived there off and on for about 4 years before moving to Rangely, Colorado. I say off and on, because my father was a pipeline welder, so we moved to many different areas following pipeline construction.
The town has changed in some aspects, but stayed the same in others. It is still an oilfield town, with many businesses servicing the oil and gas industry. The biggest change for me is all the new housing. I once fell off of a running horse on a gravel road in the country. The scars I have on my arms are a reminder of the pain that gravel burns can inflict! Today, the area is a subdivision full of beautiful homes.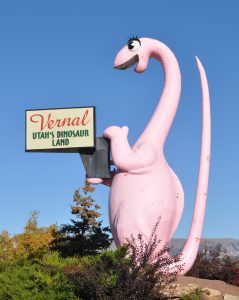 In 1958, an icon for Vernal was built to advertise a motel. The icon was "Dinah" a pink long neck dinosaur. The motel is gone, but Dinah now is a sign for the town of Vernal. Because Vernal is the heart of Dinosaur land, you will see lots of dinosaur statues scattered along Main Street. Many of those were around when I was a kid.
Today a new dinosaur museum has replaced the museum that was there when I grew up. I used to spend hours and hours in the old museum. Even though it was a small museum, it had great dinosaur information, a fantastic rock and mineral collection, and lots of Native American artifacts, which included an Indian mummy on display. My favorite part was a black light mineral exhibit. You entered the room with incandescent lighting, looked at what appeared to be common and mundane minerals and rocks … then flipped a switch which turned the light off and black light on. Oh my! How the rocks glowed with such bright neon colors. It was like magic!
I think that museum and the surrounding area (full of spectacular geological formations) was the beginning of my love for geology. Even though I didn't realize it at the time, even as a child I was being indoctrinated into the evolutionary worldview … a worldview that turned me away from God later in life. We have been blessed to have had the opportunity to visit Vernal several times over the years, refuting the evolutionary dogma that is prevalent today.
Lanny Johnson