Thinking back on a recent seminar tour, the tour I'm remembering began (March 10th) with a homeschool conference in the Salt Lake City, UT area. The beginning event was a museum tour of the North American Museum of Ancient Life in Lehi, UT.  Rich gave a tour and offered a creation perspective on the museum's exhibits.  It was very well attended, over 70 students and adults, with all the participants attentively listening during the 2 hour presentation.
As Rich was leaving the museum, a museum employee approached him with a comment.  She had been following him around the museum and had been listening to what he had to say.  She told Rich that she really liked what she heard and just wanted him to know.  Lesson learned… not everyone who works at an evolutionary museum believes the naturalistic philosophy that is taught in them.

Following the museum tour, the homeschool conference we were presenting at ran for the remainder of the day Friday, and continued on through Saturday. Rich taught six workshops over the course of the convention.  The homeschoolers were very engaged and there were some excellent discussions.  The discussions concerning 'stem cells and cloning' and 'genetic engineering' were especially interesting.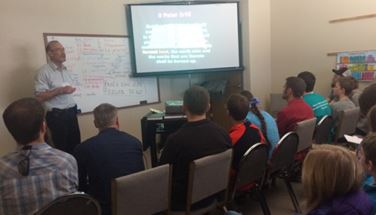 That following Sunday, we were able to teach at a local area church followed by a very enjoyable lunch with some long time supporters of AOI. What a blessing it was to connect again with friends we have known for 10+ years and share memories of family camps and other connections we have.
Sue Stepanek